Suzanne Somers Vindicated In 'Do-It-Yourself Meal' Trial -- Case Dismissed!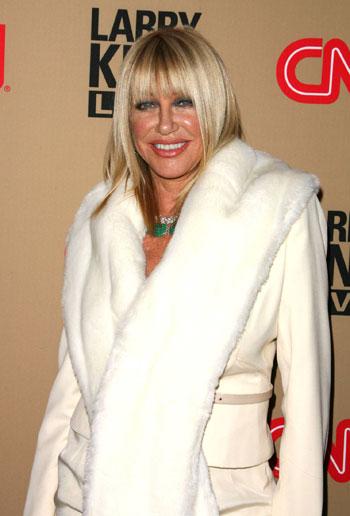 The civil lawsuit filed against Suzanne Somers for a failed do-it-yourself meal preparation business that bore her name has been dismissed at trial, RadarOnline.com has learned.
The actress and fitness guru walked away from the Fayette County Circuit Court Wednesday pleased with the outcome after a judge decided there was a lack of evidence in the case.
LEGAL DOCUMENTS: Read The Case Against Suzanne Somers Here
Article continues below advertisement
Judge James Ishmael entered a directed verdict in the case, ruling there was not enough proof for the jury to consider a verdict.
In a statement following the dismissal, Somers told the Lexington Herald-Leader, "It's great to be vindicated. I knew I had done nothing wrong.
"I know the judge put a lot of thought into his decision; it was a long time to sit," she said.
RadarOnline.com broke the news that in 2006, the former Three's Company star and former Kentucky Gov. John Y. Brown planned to open a chain of stores called "Suzanne's Kitchen" that would "prepare and sell home cooked meals."
The two raised about $1 million to get the project off the ground, with $400,000 of it coming from John Shannon Bouchillon.
Bouchillon filed a lawsuit against both Somers and Brown, claiming that unknown to him at the time he made his investment, Somers and Brown didn't have a formal a business agreement, and that they constantly fought, unable to agree on anything.
Prior to Monday's trial, Brown was dismissed as a party in the case at Bouchillon's request.