EXCLUSIVE: Suzanne Somers Sued In Failed Food Venture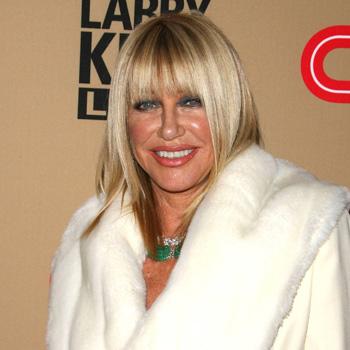 Suzanne Somers is known as one of the most successful business women in Hollywood. The former sitcom star become a multimillionaire thanks to her lines of nutritional and weight-loss products, make-up, and best-selling books including her most recent, Sexy Forever.
But even Suzanne Somers can have a business failure, and one of them will have her in a Kentucky court room next month, RadarOnline.com has learned exclusively.
Article continues below advertisement
LEGAL DOCUMENTS: Read The Case Against Suzanne Somers Here
In 2006, Suzanne and former Kentucky Governor John Y. Brown came together with a plan to open a chain of stores called Suzanne's Kitchen that would "prepare and sell home cooked meals."
They raised approximately $1 million to get the venture off the ground, with $400,000 of it coming from John Shannon Bouchillon.
LEGAL DOCUMENTS: Summary Judgement
The project collapsed shortly after the first store opened in Lexington, Kentucky because Somers and Brown couldn't agree on just about anything. Bouchillon believes he was lied to and wants his money back!
"At the time of his investment, it was misrepresented to my client that there was an operating agreement and a licensing agreement between the Governor and Suzanne Somers," Bouchillon's attorney Craig Robertson tells RadarOnline.com exclusively.
MORE ON:
Celebrity Justice
Article continues below advertisement
"They took in money from investors and even opened that first store without telling their investors of their intense disagreements. Of course, none of their own money was at risk."
Those disagreements led to the closing of that first store in Lexington and the filing of a lawsuit by Bouchillon.
"Suzanne Somers has been trying to get the lawsuit against her dismissed ever since it was filed," Robertson tells us. "She tried again as recently as last week."
All her efforts to keep the case from going to trial have failed however, with even the judge noting with some surprise that a smart business person like Somers could have proceeded with Suzanne's Kitchens as long as she did without all the "I's dotted and T's crossed."
The case is now headed for trial January 24.
RELATED STORIES:
Nicollette Sheridan Drops Explosive Lawsuit Claim
Jayde Nicole Settles Lawsuit Against Joe Francis