VIDEO: Star Defends MTV's Skins, Says 'It's What Teens Are Doing'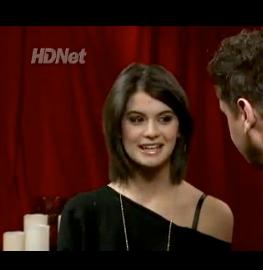 MTV is taking considerable heat for its new series Skins, a controversial show about teenagers having sex and doing drugs, but lead actress Sofia Black-D'Elia is defending the series, RadarOnline.com has learned.
"It's what teens are doing," she says.
"It's pushing the boundaries for teen drama because I think Skins goes where other shows are afraid to," Sofia, who plays a lesbian teen, told PopEater's Rob Shuter on his HDNet show Naughty But Nice With Rob.
Article continues below advertisement
The 18-year-old All My Children alum says the show simply depicts what actual teens are doing and feels the show can help educate parents.
"It's the way teenagers believe, I think, especially you know in certain situations when you come from home lives where your parents don't really support you or really listen to you. That's what most of these kids are going through.
About 3.3. million viewers watched the show which debuted Monday --- most of them between the ages of 12-34. Since then, Taco Bell pulled its advertising and in the same week the Parents Television Council, a TV watchdog group, called for a federal child porn probe.
MTV, however, is not worried at all and in a statement says the network is "confident that the episodes of Skins will not only comply with all applicable legal requirements, but also with our responsibilities to our viewers."
You can check out Skins on MTV Monday nights at 10PM.
RELATED STORIES:
VIDEO: Young Parents Face Grownup Problems On Teen Mom 2