PHOTOS: PDA Alert! Touchy-Feely Stars Who Are Not Shy Showing Their Love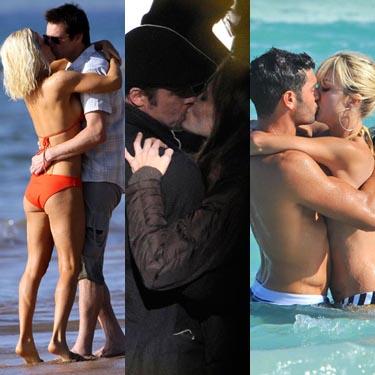 Hollywood's hottest stars know that one the secret of keeping any romance alive is by engaging in splashy displays of public affection, whenever and wherever they can! RadarOnline.com has photos of your favorite celeb couples, getting busy in front of a live audience, and sometimes crossing the line. Click the next sentence to see stars engaging in PDA.
Paris Hilton has never missed a chance to show off her scandalous bikini body -- or her latest boy toy. The blonde babe most recently got busy with Cy Waits in Maui this holiday season, presenting her hunky beau the gift of her love. See Paris getting busy on the beach with Cy by clicking here.
Article continues below advertisement
Angelina Jolie and Brad Pitt try and keep up a PG image, restricting their affection to hand holding when in the public eye, but sometimes the blockbuster couple can't help themselves. Brad and Angie were spotted in Budapest in 2010, sharing a passionate smooch on the set of Angie's movie. Click here to see Brad and Angie smooching in public here.
Take about a little maritime action! Hunky bigscreen hero Jason Statham recently made a splash in St. Barts, going overboard on the PDA factor with his supermodel turned Transformer girlfriend Rosie Huntington-Whiteley, while sailing the seas on a luxe yacht. The bikini babe and the Expendables star definitely made some waves with their passionate kiss. See it by clicking here.
And it's no surprise that Will Smith loves his wife Jada Pinkett. The couple does not keep their feelings on the down low, making sure to share their happiness with the world. See Will and Jada sharing an intimate moment here.
How does Demi Moore keep Ashton Kutcher satisfied? The smoking hot movie veteran plants wet ones on her much-younger husband in public whenever she can, to chase the Brittney Jones' of the world away. See Ashton and Demi share their love here.