PHOTO: Even Celebs Get Star Struck! Justin Bieber Asks Angelina Jolie For A Photo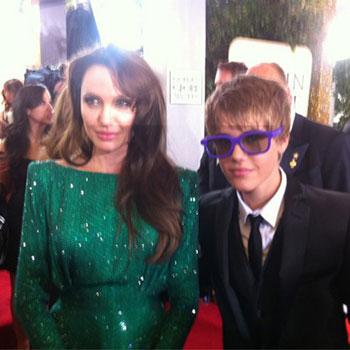 Seems celebrities really aren't that different from the rest of us when it comes to getting star struck!
Justin Bieber went from teen sensation to regular fan last night when he spotted Angelina Jolie on the Golden Globes red carpet – asking the gorgeous actress to pose up for a photo with him.
The 16-year-old quickly took to his Twitter account to post the results along with the comment: "Angelina Jolie with @Justinbieber and 3D #purpleglasses oh yeahhhhh"
Article continues below advertisement
Bieber, wearing a huge pair of purple framed glasses looked thrilled to be posing next to Angelina, who was resplendent in a sparkling green gown.
No word on whether Bieber also managed to befriend the actress, who was at the Globes with partner, Brad Pitt, but if he did she would become yet another A-lister in his bulging celebrity pals contact book.
The Canadian teen already calls Kanye West, P-Diddy, Drake, Chris Brown, Kim Kardashian and Justin Timberlake friends, and it seems they're just the tip of the iceberg.
The pop star's next big project, his Jon Chu 3-D documentary Justin Bieber: Never Say Never, which hits theaters on February 11, reads like a who's who in Hollywood, with just about every big celebrity making an appearance to talk about the Biebs.
The film is set to feature guest appearances by Sean Kingston, Usher, Jayden Smith, Boyz II Men, Miley Cyrus, Kobe Bryant, Ludacris, Johnny Depp, David Beckham, Will Smith and Snoop Dogg.