PHOTO: Brett Favre's Kid Sister Arrested On Meth Charges -- See Her Mug Shot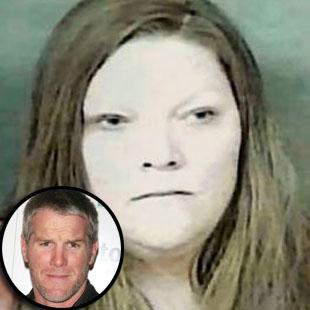 Another Favre has been sacked -- this time, by cops.
One day after Brandi Favre -- the younger sister of football star Brett Farve -- was arrested during a crystal meth bust in Mississippi, police have released her mug shot, and RadarOnline.com has the photo.
Brandi, 34, was one of five people busted Wednesday by undercover cops, who reportedly found methamphetamine cooking in the bathtub of a condo complex in Diamondhead, Miss. Authorities also found nine grams of the drug, worth about $150 on the street.
Article continues below advertisement
All five suspects had to be taken to the hospital for decontamination before they could be booked.
ON YOUR RADAR: Top 40 Biggest Celebrity Stories Of The Year
This is not Brandi's first brush with the law. Authorities say they are "very familiar" with her.
Between the mid and late 90′s, she was arrested for felony shoplifting and for a gun-related charge.
The site of the meth lab is less than ten miles from Kiln, Miss.,where Brett and his siblings were raised. Favre currently lives about 85 miles north of Diamondhead on a ranch in Hattiesburg, Miss.