Kate Hudson: I'm Pregnant, Not Engaged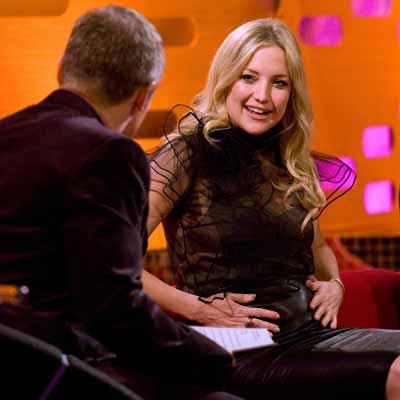 Kate Hudson said on Friday's edition of the U.K.'s Graham Norton Show that while she is pregnant, she's not engaged to her unborn baby's daddy, Muse rocker Matthew Bellamy, RadarOnline.com has learned.
"I'm just starting to pop!" said Hudson, 31. "We have a couple of names, but we're not telling anyone."
Hudson said the child she's carrying "feels like a girl, but I don't know.
When asked if she was engaged to Bellamy, Hudson said, "No... not that I know of.
Article continues below advertisement
"I don't like putting that sort of pressure on it, and I don't feel it necessary to get married," Hudson said. "I am 31, I already have one child, and have had one divorce, so it is not necessarily the golden ticket -- I just want to be happy."
As we previously reported, Hudson and Matthew Bellamy are expecting a little one in about four months. The Almost Famous star has a 7-year-old son named Ryder with her ex-hubby, Black Crowes singer Chris Robinson.
Hudson, in the past, has been romantically linked to baseball player Alex Rodriguez, cyclist Lance Armstrong and actor Owen Wilson, who himself recently welcomed a baby into the world.
RELATED STORIES: