PHOTOS: Sexy Stars Addicted To Love -- And Skimpy Bikinis!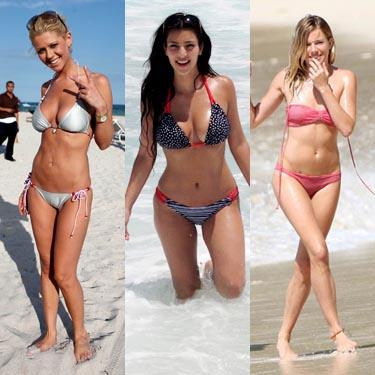 These sexy stars may not be addicted to love like self-proclaimed Love Addict Rachel Uchitel, but they certainly spend a lot of time playing with cupid!
While other stars get empowered by spending time solo, these bikini babes always seem to be bouncing from one guy to the next. RadarOnline.com brings together all of the sexiest stars who love being in love in this special bikini feature.
Rachel Uchitel is the poster child for love addiction. The Tiger Woods mistress is featured this season on Dr. Drew's Celebrity Rehab battling the controversial "disease." Recently, the smoking hot scandal-savvy star dished to RadarOnline.com about the nature of her affliction. "It is a disease and disorder," she explained. "It is where you feel like you have a hole in your heart and you are waiting for a knight in shining armor to come and save you." Read the full interview with Rachel here and see her toned and taut bikini bod here.
Article continues below advertisement
Lindsay Lohan gets more publicity for her volatile love life, than she does for her acting chops! The rehab re-offender has dated some of the hottest men -- and women -- in Hollywood, rarely taking a breath of single air. See Lindsay's rocking bikini body here.
Since skyrocketing to international stardom at an early age, Drew Barrymore has definitely sampled the goods in Hollywood. Drew got engaged for the first time at 16 years old, and has been married twice—both times heading to the altar shortly after coupling. It seems like this sexy bikini babe doesn't like to sleep alone. Check out Drew's amazing beach body here.
Always a fiancée, never a bride, Tara Reid has called off more engagements than we can count. The bikini babe is always falling in love, showing off a blinging ring, and then announcing a split shortly after. See Tara stripped down here.
And Sienna Miller, Pamela Anderson and Kate Moss may not be addicted to love, but they have certainly had trouble staying away from certain lovers. The sexy swimsuit darlings are famous for their on-again-off-romances with their respective men (Jude Law, Tommy Lee and Pete Doherty) for better or for worse. See Sienna stripped down here, Pamela here and Kate here.