Kate Gosselin & Her Silver Fox Bodyguard Dine In New Zealand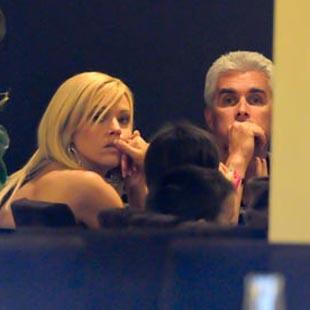 Kate Gosselin and her handsome bodyguard Steve Neild were spotted late Wednesday in Rotorua, New Zealand, enjoying a swanky dinner after a long, exhausting day of filming.
As RadarOnline.com previously reported, the 35-year-old mother-of-eight took her lil'uns horseback riding at the Paradise Treks earlier in the day, while filming scenes for her hit TLC show, Kate Plus Eight.
Neild, who is married, is actually a New Zealand native, having worked in law enforcement there for nearly two decades.
Article continues below advertisement
When she was married, Kate's then-husband Jon publicly complained about Neild's constant presence at his then-wife's side.
"I speculate what's going on but I don't know -- that's a general feel," Jon told ABC News in September 2009. "You know, almost like when they were traveling together, I felt jealous. Here I'm Mr. Mom. And then there's some other guy traveling with my wife ... whether it's protection or not, it's all ... in the back of my mind."