EXCLUSIVE: Octo-Mom Avoids Eviction -- For Now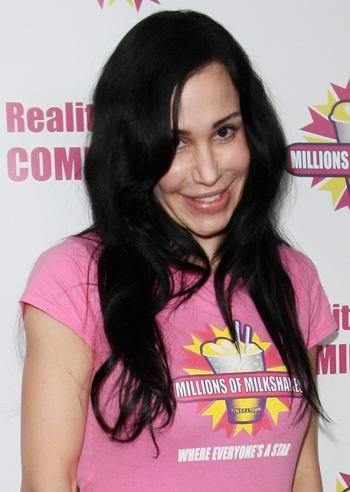 Despite her note-holder telling us last week that he was going to start the eviction process against Nadya Suleman on December 31, RadarOnline.com has learned exclusively that Octo-Mom and her kids are still in their LaHabre, CA home with no "Eviction Notice" nailed to the door.
Amer Haddadin owns the disputed house. He sold it to Nadya in 2009 but because she couldn't get her own bank loan, he transferred the title to her under a note that required her to pay it off in a year, with monthly payments of just over $4,000 and the final balloon payment of $450,000 due in October, 2010.
Article continues below advertisement
She missed that balloon payment, and Amer has been threatening to evict her ever since.
Now in a twist worthy of the Octo-Mom tale, her former publicist Victor Munoz -- who once called Nadya "nuts" -- is working with Haddadin!
"Amer didn't start the eviction as planned because I may have found someone to purchase the note," Munoz tells RadarOnline.com in an exclusive interview.
"We have a meeting set up, and if all goes as planned, the new owner actually wants Nadya to stay in the house," Munoz revealed.