Exclusive
EXCLUSIVE: Octo-Mom's Dad & Lawyer To Blame, Says Man Who Wants To Evict Her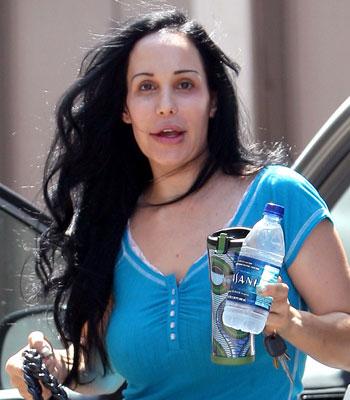 The man who is ready to start eviction proceedings against Octo-Mom blames her lawyer and her father for Nadya Suleman's troubles, claiming they breached a contract with him when they transferred the title to her house to a corporation owned by her lawyer Jeff Czech.
Amer Haddadin told RadarOnline.com that Nadya, mom of 14, has until December 31 to come up with a $450,000 balloon payment, or he's giving her the boot.
Article continues below advertisement
"Look, I do not blame those kids. It is the attorney and her father – if she cannot afford to make the payment she will have to leave - she cannot stay for free," Amer told RadarOnline.com in an exclusive interview.
"I will make sure that everything is done legally with the courts as I push forward with the eviction process I'm determined to see this process through now."
Amer claims that Nadya's attorney Czech breached the terms of the original loan, as did her dad Ed Doud. He claims that they breached their contract with him by transferring the title to Nadya's house to Harmony Enterprises Corporation, a company run by Czech.
RadarOnline.com was first to report that the title had been transferred to Czech's company.
"The title has been transferred to her lawyer's name from her father and that is a breach of contract – they cannot do that the terms are quite clear," Amer told RadarOnline.com.
EXCLUSIVE VIDEO: Octo-Mom Blasts Kate Gosselin
"Nadya Suleman has been paying $4060 a month and she is currently up to date on her rent but she is late with the balloon payment.
Article continues below advertisement
"This is not a publicity stunt I want them out of that house by December 31, 2010, I'm fed-up dealing with them now.
EXCLUSIVE VIDEO: Octo-Mom Shows Off Her Secret Tattoo
"And I will get an eviction order if necessary to get them removed - I am very angry and do not deserve to be treated this way.
"The balloon payment was actually due on October 9, 2010, but nothing was paid. She has lived in that house for over a year and a half now.