Exclusive
EXCLUSIVE INTERVIEW: Octo-Mom's Lender Asks - 'What Will Happen To Her Kids When I Foreclose?'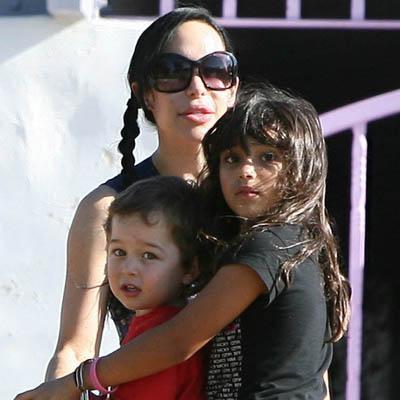 Octo-Mom may be trying to raise money to save her brood of 14 from destitution, but it's not making an impression on the man who owns the deed to her house.
Nadya Suleman recently raised $2,600 in a garage sale, and this weekend she raised even more cash working as a celebrity bartender in the hope of making back some of the $450,000 she owes her lender, Amir Haddidan, in back mortgage payments.
But in an exclusive interview with RadarOnline.com, Haddidan admitted he's just not buying it.
Article continues below advertisement
AUDIO: Hear Octo-Mom's 911 Call
"I think it's all a move for publicity," he said.
"What's going to happen to those kids when I foreclose on her house. She's using the house and her situation to get publicity. It's just a prop house to her. She can do what she wants. Even if it takes a year, I'm going to get her out."
As RadarOnline.com reported, Suleman appeared at Carlos & Charlie's Restaurant Bar and Nightclub in Ontario, California, on Saturday night, where she was billed as a celebrity bartender.
The club's owner told RadarOnline.com that Nadya took home all proceeds from the $10 cover charge at the door, but a witness reported only about 100 fans at the bar.
Last week, Suleman raised a mere $2,600 holding a garage sale.
She held the yard sale on her front lawn where she desperately tried to sell personal items such as lingerie, bikinis, a red bra with gummy bear stains on it, a diaper bag signed 'Octo-Mom' and the baby-size 'time out' chair given to her by Oprah Winfrey.
Article continues below advertisement
Suleman faces foreclosure on her home in La Habra, California on October 9 if she cannot come up with the money she owes on it.
Haddidan told RadarOnline.com that he spoke to Suleman's attorney last Thursday, who promised to pay him some of the money owed; to date, Haddidan said he's yet to see a penny.
Vivid Entertainment, a huge player in the porn industry has offered Suleman up to $500,000 to perform in one of its movies.