Exclusive
EXCLUSIVE: Lindsay Lohan & Paris Hilton Offered $1 Million To Fight In Celebrity Boxing Match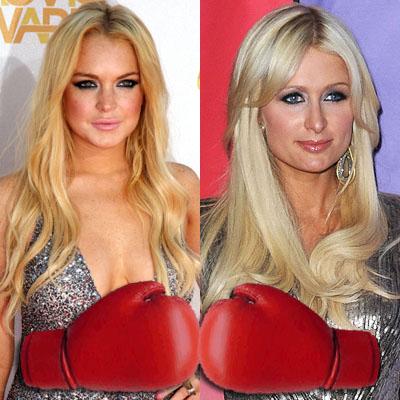 Lindsay Lohan & Paris Hilton have been offered $1 million to fight in a celebrity boxing match, RadarOnline.com has exclusively learned.
Damon Feldman of Hollywood Boxing Federation said his organization would donate proceeds to an anti-drug and alcohol campaign or charity if the reformed party girls agreed to jump into the ring together.
"We're calling it the battle of the bad girls of Hollywood," Feldman told RadarOnline.com in an exclusive interview.
Article continues below advertisement
The promoter - who has previously put on fights featuring The Partridge Family star Danny Bonaduce and Lindsay's father Michael - said the actors, both of whom have had their share of drugs drama, would only be required to fight three one-minute rounds and be paid $500,000 each.
Plus the starlets would use "big pillow sized boxing gloves," Feldman added.
"This would be nothing more than a fun match-up, and Paris and Lindsay have both dabbled with boxing training in the past," he said.
"Michael could even help train Lindsay as he is undefeated in Celebrity Boxing!"
Hilton, 29, and Lohan, 24, are said to be on friendly terms again after a spectacular feud dating back to 2006, when the hotel heiress made the infamous "Firecrocth" video about the Mean Girls starlet.
Not soon after, Lohan accused Hilton and billionaire friend Brandon Davis of hacking into her voicemail and leaving prank calls.
Article continues below advertisement
In images released last September, apparently taken at a sleazy Hollywood bash, Lohan was pictured snuggling up to Hilton before the pair shared a passionate kiss.
Feldman had previously made a pitch to Hollywood superstars Will Smith and Mark Wahlberg to enter the ring against each other.
However, Smith - who played Muhammad Ali in 2001's Ali -- rejected the overture.
The promoter said Hilton and Lohan were obvious candidates to fight and added that he was counting on the stars' sense of generosity, given all the money would go to a cause close to their hearts.