Exclusive
EXCLUSIVE: I Agreed To Pay Dawn Holland, Lindsay's Dad Admits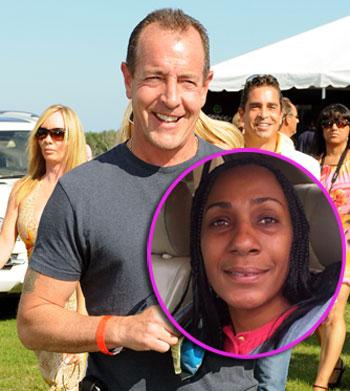 Michael Lohan agreed to pay Dawn Holland in the aftermath of the Betty Ford Center worker accusing Lindsay Lohan of attacking her, he has admitted to RadarOnline.com.
We broke that story that Holland secretly cut a $25,000 deal after refusing to cooperate with the police investigation into her altercation with Lindsay. Holland denied there was a deal but now Lindsay's dad has come forward and charges that he agreed to pay Holland and claims she then got "greedy."
Article continues below advertisement
Lohan told his version of events to RadarOnline.com in an email. Here it is in its entirety: "I am coming forward without regret, to tell the truth about the Dan Holland situation with my daughter. Lindsay.
"From the night of this occurrence, I have been aware of the entire situation.
"Dawn DID assault Lindsay while demanding a urine (test) and took it to another level when Lindsay demanded the phone.
"Since then, Dawn has had her attorney meet with me, negotiate with me and even propose a "deal" with me, her lawyer and Lindsay's lawyer, Shawn Holly (Chapman) and while I agreed to Dawn Holland's initial "number", to procure financial stability due to getting fired, she got greedy and took it to another level.
"Dawn DEMANDED that Lindsay agree to a sit down interview to make 'amends' for the sake of the public NOT because Dawn wanted to set the record straight, but because she negotiated a deal to make more money from the interview.
Article continues below advertisement
"When Lindsay said that amends don't need to be a public thing, and she would NOT do it publicly, Dawn fired her lawyer and hired another one out of vengeance.
"With Dawn Holland's record for abuse, her assault charges, her credibility and desire for money, I believe that he courts and public will see, that this is a woman, who motives and intentions (sic), to set Lindsay up, so she could have financial gain.
"If she really was or is in "recovery", she would seek it in an emotional way, rather than financial.
"If this was any other person, in the same situation, Dawn, nor the authorities would ever pursue it in this fashion."
The Lindsay-Holland encounter is still being investigated by the Riverside County authorities. Holland and attorney Keith Davidson parted ways this week, as RadarOnline.com first reported and Holland hired a new attorney.