Exclusive
EXCLUSIVE: Jennifer Lopez Caught Up In IRS Investigation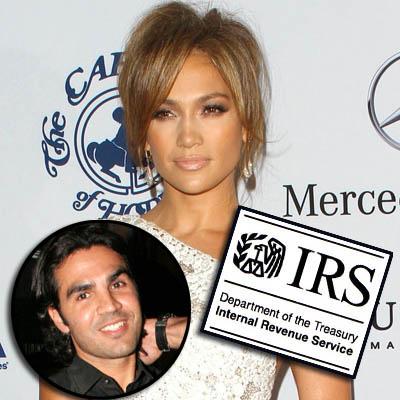 Jennifer Lopez and her ex-husband Ojani Noa are caught up in an IRS investigation that includes payments the 'Love Don't Cost A Thing' singer has been making to him, RadarOnline.com has learned exclusively.
Noa was questioned by IRS investigators on October 7, 2010 and under oath questioned specifically about a discrepancy concerning payments J.Lo made to him, according to Ed Meyer, who represents Noa.
Article continues below advertisement
"The IRS called Ojani and asked for documents about how J.Lo paid him for the Madre deal," Meyer told RadarOnlne.com.
"They wanted a copy of the Madre settlement agreement and any information about Jennifer sending him a 1099."
Lopez and Noah settled his lawsuit against with a document signed on October 12, 2005 and that's the document the IRS wanted, RadarOnline.com learned.
The 1099 form is used for many reasons but generally shows income received.
Article continues below advertisement
Noa told the IRS investigators that he never received a 1099 form from Lopez, Meyer told RadarOnline.com. He also said that Noa simply reported the amount of money he received from JLo and there was no confusion on his part because that was his only income for the year.
Asked if it was possible that Noa underreported his income from J.Lo, rather than JLo over reporting what she paid him, Meyer told RadarOnline.com that Noa denies that.
"He reported his income accurately," Meyer told RadarOnline.com. "Any discrepancy is not from him."
RadarOnline.com reported exclusively last week that JLo's husband Marc Anthony had $3.4 million in unpaid tax bills.
Within days of our report, his people reported that he had now cleared the debt.
Lopez is reaching yet another career milestone as she is set to debut as a regular judge on the post-Simon-Cowell American Idol.
Article continues below advertisement