Exclusive
EXCLUSIVE INTERVIEW: NeNe Leakes Disowned Me & My Family, Says Stepson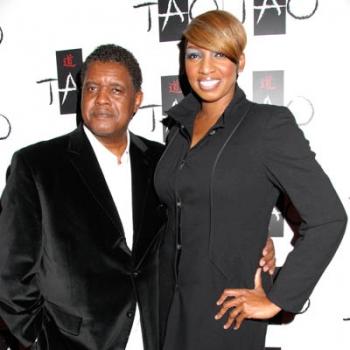 The stepson of Real Housewives of Atlanta star NeNe Leakes has told RadarOnline.com that she disowned him and his siblings after becoming a reality TV star.

 What's more, Damian Leakes — whose father Gregg is on the verge of divorcing NeNe — wants the family drama to be the core of a spin-off TV series.
Speaking exclusively to RadarOnline.com, Damian, 34, said NeNe and Gregg haven't even acknowledged their five other children exist on the top-rated Bravo program.
Article continues below advertisement
"We are the forgotten side of the family. There's so much talent with the kids he left behind," Damian said.
"She knows us and she knows we have issues from about 15 years ago and it's time to address them. She's become a household name with our last name, but we're non-existent."
Gregg's children include Damian and his twin brother Daryl, Katrina, 27; Dexter, 25; and Denton, 21.
"We need some closure," Damian said. "We need to know what did we do to cause this? What did we do to get Gregg to say 'I'm going to abandon this family! I'm not going to try to be your friend or work with you or understand!' We knew she NeNe didn't like us-- maybe he had too many kids. We didn't know what her actual ordeal was.
"A TV show could be building process for Gregg and his kids because no one ever knew he had kids. There's a lot of healing that needs to go on and a lot of animosity."
Article continues below advertisement
For the last few seasons the only son who's been featured on the hit reality show has been NeNe's trouble-prone 20-year-old, Bryson, who has been arrested twice and, as RadarOnline.com exclusively revealed, is soon going to soon become a father.
Damian told RadarOnline.com that he and his siblings believel NeNe's distance is related to her stepkids' potential for spilling family secrets.
Damian said he first met NeNe at the gentleman's club in near Atlanta where his father used to work.
"No one really knew about her stripper past. That alone was a selling point for her to say 'get rid of them because they met me at the strip club,' Damian said.
"A whole bunch of life-turning events have transpired from the moment Gregg met NeNe up until they started the show. They literally cut us off to keep us away from the limelight so we wouldn't be able to tell anything.
"It's crazy to see your dad on TV every week who you can't have a simple conversation with. You've got five other kids that nobody knows about, grandkids that you don't see or never seen before…we at first had to play the role like we agree with the situation, but we're not with the situation. We feel like we should have a mention."
Article continues below advertisement
The silent situation has gotten so bad that Gregg's children want to capture their feelings during a family intervention on camera.
VIDEO: The Atlanta Housewives Go Head-To-Head
"I think Nene has a lot to do with the crumbling of our family," Damian told RadarOnline.com.
"We think of her as selfish and a center-of-attention freak. She wants all of the attention and this is before a camera ever got on her.
"We want to confront her and we want a camera crew. We want to see her expression when she has to explain to us this big void in our life because we could have been living well too. It's not about the money, but we could have been living better than we were. We wouldn't have had to struggle as much or try to make something out of nothing."
Damian doesn't know if NeNe is on board for another Housewives season, but if she returns Damian and his siblings will do more than just watch the show.
Article continues below advertisement
"If she remains on the show, we're going to make our voices heard. And I don't think she wants that, period. Because that opens up a whole can of worms.
"She's ducking and dodging us like a bullet."
Damian thinks a potential on-camera family intervention could have a number of positive outcomes.
"It could start the healing process for all the kids…and maybe that could build back the trust with NeNe and help her and Gregg get back together," Damian said. "It could change him and her people, bring us all closer even if they decide to divorce, and finally break the ice and air it out.