EXCLUSIVE INTERVIEW: Madonna's Estranged Brother Hopes To Reunite With Pop Star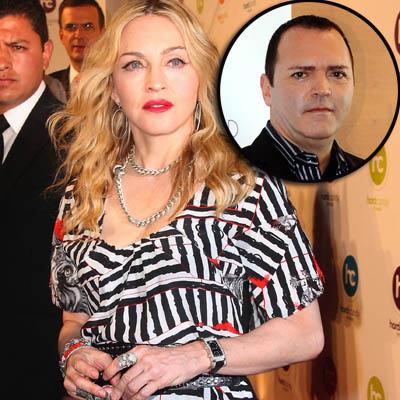 Madonna's brother Christopher Ciccone knows he will reunite with his superstar sister, but he's terrified it won't happen until the funeral of their beloved grandmother Elsie Fortin.
Elsie, who is 99-years-old, helped raised Christopher and Madonna after their mother died when they were young.
But since Christopher wrote his best selling tell-all book, Life With My Sister Madonna, in 2008, the once inseparable siblings have not spoken to each other.
Article continues below advertisement
"The only contact I have had with my Madonna is via e-mail when I try to keep her up-dated about our family, but often she does not respond, and if she does it is through somebody else," Christopher told RadarOnline.com in an exclusive new interview.
"It could take my grandmother's passing for us to meet again, but one way or another I know it will happen."
He added: "I'm praying that my grandmother makes it to 100, but I know she is frail now... she is a remarkable person who raised my brothers and sisters and is very important to our family."
Christopher's expose about living and working with Madonna climbed to the top of the New York Times best seller's list and has now been printed in 18 languages.
For a notorious control-freak like Madonna, many suggested the tell-all would have seemed like the ultimate act of betrayal by the man who was known as 'The Pope' because of the influence he exerted over the superstar's career.
While a famous boyfriends paraded through Madonna's life, her openly gay brother was a constant presence and instrumental in planning her elaborate stage shows that helped cement her reputation as the world's most famous performer.
Article continues below advertisement
But although Christopher enjoyed all the trappings of his sister's fabulous lifestyle, he never felt fully appreciated by the head strong performer and by the time she married her second husband, British director Guy Richie in 2000, he was already being pushed out of her life.
Once a friend of A-list stars like Gwyneth Paltrow and Demi Moore, Christopher -- an artist and music manager -- admitted that his life has never been the same since he penned his book.
"Look, I no longer get invited to all the same parties, and there are certain agents in Hollywood that won't touch me, but I have no regrets and don't really care about that stuff anyway," he told RadarOnline.com.
LONG LOST PHOTOS: Madonna - Before She Was Famous
"After I wrote Life With My Sister Madonna, the famous late Hollywood agent Ed Limato told me 'I understand you now' while I also think it has given my family a better understanding of me too.
Article continues below advertisement
"I'm not totally black-listed, and there are still plenty of people who will work with me still though.
"I've just formed The Ciccone Factory and I'm mentoring a number of exciting new artists including Erika Anderson and Ashe Wednesday.
"I'm energized again and just like 'a gay Simon Cowell' I intend to mentor these performers and use what I learned working with my sister to help get their careers established.
"I also have an erotic photography book coming-out in the summer called F****** Polaroids which I'm looking forward to promoting.
"Life has come full circle for me now and I certainly don't have any regrets about writing my book - it help me with my own identity and to truly understand the relationship I had with my sister Madonna too."