Exclusive
EXCLUSIVE INTERVIEW: Kelsey Grammer's Ex-Fiance Says She's Helping Camille Deal With Split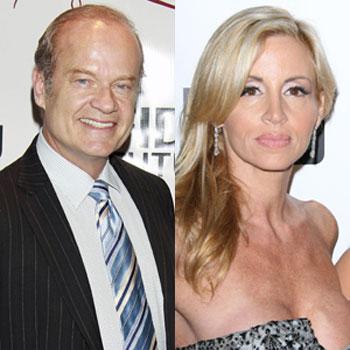 Kelsey Grammer's ex fiancé tells RadarOnline.com that she's helping his wife Camille deal with the pain of their marriage disaster.
Former model Tammi Baliszewski was engaged to the Frasier star before she claims he two-timed her with Camille, but despite being the jilted lover, she tells RadarOnline.com in an exclusive interview that she feels sorry for Camille and has been in contact with her.
"I have immense compassion for what Camille is going through," Tammy told us. "I've been there."
Article continues below advertisement
Tammi, who previously used the last name Alexander, says that Camille called her approximately five months ago and they had a candid conversation about Kelsey. (Camille's rep told RadarOnline.com that he did not know if that call took place.)
Tammi, who says she has a Ph.D. and is a psychologist, wrote a book after her breakup with Kelsey and says she gave Camille a copy.
She told RadarOnline.com that the book, Manifesting Love, is "about my path from my dysfunctional co-dependent relationship, AKA Kelsey, to my current healthy marriage." (The book is sold on Amazon.com.)
"I gave her (Camille) a copy of my book," claims Tammi.. "She says its been a great support to her. I really hope it has been because she truly deserves it."
Kelsey left Tammi in 1995.. But speaking out on Idaho radio station Mix 106 last month she said she's not bitter.
AUDIO: Listed To Tammi's Radio Interview About Kelsey Here
"Camille got in touch with me about five months ago," she said. "We had some candid conversations and there was a lot of stuff she didn't know. He hadn't been honest with her and he had kept us apart. He told me one story and her another."
Article continues below advertisement
And she blames his celebrity status for the way he treats women.
"Having that kind of fame and power you will always find someone to say you are amazing and so sexy," she told the Mike and Kate show.
"You can find anyone to say anything you want to hear. So when the relationship becomes reality and is no longer a fantasy, a switch goes off and he starts looking for someone else to look at him with those glittery adoring eyes.
"I'm at the point where I have a lot of compassion for this man and I feel blessed to have had him as part of my process. He has actually been one of the greatest teachers.
"It was cruel the way he treated me. But when I look at it, i treated myself just as badly. We don't allow to people to treat us worse than we treat ourselves."
DOCUMENTS: Camille Grammer Claims Community Estate Worth $120 Million