VIDEO: Kelsey Grammer Says He Plans To Marry Fiance Kayte Walsh 'Sometime in February'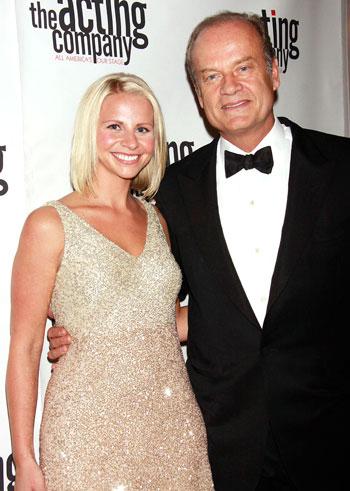 Kelsey Grammer hasn't even finalized his divorce from wife Camille but that's not stopping him from rushing down the aisle again!
The Emmy-winning actor made an appearance on Thursday's Late Show with David Letterman, and told the late night host he and his fiancée of several months, Kayte Walsh, 29, will tie the knot next month.
Letterman said to Kelsey, "Now from what I understand, your marriage is ending ... well, I'm sorry to hear that , or not sorry to hear that."
Article continues below advertisement
Kelsey said, "You are respectfully considerate, and yet pleased for the new developments in my life."
Kelsey said his two children with Camille -- Mason and Jude -- "seem to be doing OK" in the wake of the split.
"We've been spending with them, Kayte's and I -- Kayte's my new girl, and we're planning to get married soon," Kelsey said, to a roaring ovation from the studio audience. "Sometime in February."
Camille and Kelsey announced they were divorcing on July 1, 2010 after a 14-year marriage. It became a very public breakup that was chronicled throughout her appearance on the hit Bravo reality show, the Real Housewives of Beverly Hills. At the same time, Kelsey was busy with the Broadway production of La Cage aux Folles.
Only one month later, Kelsey announced Kayte was pregnant with their child. Sadly, Kelsey, 55, and Kayte, 29, suffered a miscarriage, but became engaged in December 2010.