Exclusive
EXCLUSIVE INTERVIEW: Jersey Shore's Angelina Tells Radar -- 'Vinny Is A Bully & Hypocrite'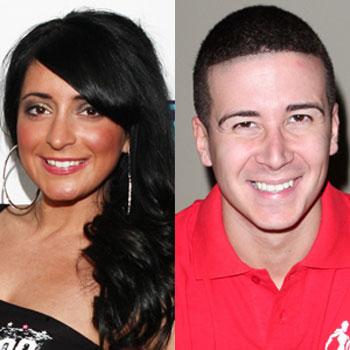 Jersey Shore's Angelina Pivarnick has turned on former co-star Vinny Guadagnino, telling RadarOnline.com: "He is a bully and a hyprocite."
The riled reality TV star spoke out after Vinny unveilved a t-shirt line in collaboration with charity organization Do Something, to support young people's causes, with the slogan -- "F*** Bullies!"
Angelina said she was the victim of endless verbal abuse and suggests Vinny was one of the cast's ringleaders.
Article continues below advertisement
PHOTO: Invite To Vinny's Private Reception At Greenhouse
"I just want to tell Vinny, 'You are a bully and a hypocrite!'" Angelina told RadarOnline.com in an exclusive interview.
At the product's launch in New York this week, Vinny revealed his inspiration behind joining the cause: "When all those kids were killing themselves because of being bullied, that's all I wanted to tell the people who were doing it."
Angelina, who was originally invited to that private reception, was somehow curiously uninvited - which she can only attribute to cast mate Vinny's dirty doings in what she thinks is yet another bullying attempt.
"The evening of the party I received a call from a friend, telling me that my RSVP had not been approved," Angelina revealed.
"How dare he do this after what he did to me!"
Just last month, Angelina revealed she ran into her ex co-star's mother at a Staten Island department store and confronted her about the pain her son had caused.
Article continues below advertisement
"I explained how hurt I was by the way he treated me but she didn't seem to get it," she said.
"Vinny's mother is in such denial about how cocky and mean he is, she believes he is a quiet, nice boy that keeps to himself."
Angelina's chance meeting with Vinny's mom occurred after the infamous YouTube video was released showing the entire Guadagnino family cruelly mocking Angelina's rap song.
RELATED STORIES: