Exclusive
EXCLUSIVE INTERVIEW: J-WOWW's Ex Says Her Cheating Was 'No Surprise'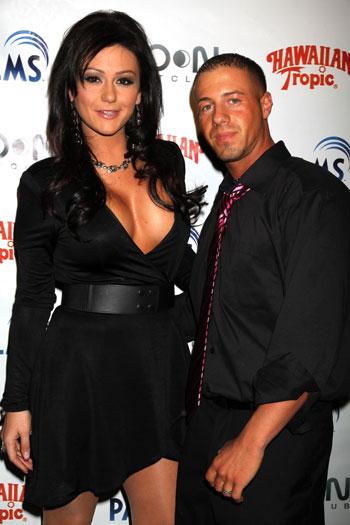 On Monday's episode of Jersey Shore, J-WoWW showed signs she was ready to trash her long-term relationship with ex-boyfriend/manager Tom Lippolis as she flirted endlessly with trucker and now-boyfriend Roger Williams. Although Lippolis didn't watch the show, after hearing the details from RadarOnline.com he told us he wasn't surprised by her behavior.
"It doesn't surprise me that she was cheating on me, she has a really bad track record and our relationship was the longest one she had ever had," Lippolis told RadarOnline.com in an exclusive interview.
Article continues below advertisement
When J-WOWW, 25, ran into Roger she was still living with Lippolis but didn't act like a girl connected. She immediately expressed feelings for him.
But Tom told RadarOnline.com that his then-girlfriend insisted Roger was only a friend.
"She called me and told me she had run into that guy Roger but she said he was just a friend and she was only hanging out with the guy because Deena was into his best friend," Tom told RadarOnline.com.
"Everyone told me she was cheating on me and that Pauly wasn't the only person she was with the first season so now I know."
Tom is now suing J-WOWW and says she owes him for managing her career. Meanwhile the MTV star has filed legal papers hoping to prevent her ex from selling or making public naked photographs he took of her.
On the third season of Jersey Shore, their relationship implodes and Tom told RadarOnline.com he should have seen the signs.
Article continues below advertisement
"It's funny because she use to say, 'Why can't I have any guy friends?'" Tom told us.
And while J-WOWW, whose real name is Jenni Farley, was telling Tom that Roger was just a friend, Monday's episode proved she was heading in a different direction.
EXCLUSIVE DOCUMENTS: Melissa Mayne Sues Angelina Pivarnick For Assault
"You know how many times I checked your Face book to see if you were single?" J-WOWW asked Roger on the show and added: "I want to spend time with you."