Exclusive
EXCLUSIVE DOCUMENTS: Dennis Hopper's Estranged Wife Wins Injunction Stopping Auction Of His Art Collection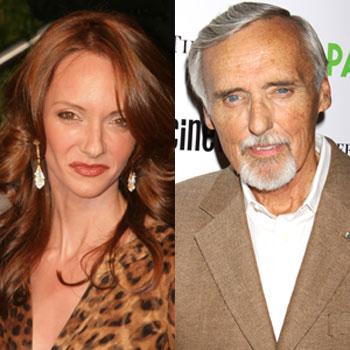 The late Dennis Hopper's wife, Victoria Duffy Hoffman, has won an injunction to stop the auction of the actor's expansive art collection, RadarOnline.com has exclusively learned.
EXCLUSIVE DOCUMENTS: See The Court Documents Stopping The Sale Of Dennis Hopper's Art Collection
In the exclusive court documents obtained by RadarOnline.com, Victoria argued that "during the marriage, several pieces were purchased by the couple together" and that "several pieces were given as gifts to the couple."
Article continues below advertisement
The auction was set to take place through Christie's auction house on January 11.
In the injunction, filed on January 6 with the Superior Court of Los Angeles, Victoria was granted a "restraining order herein preventing the Co-Trustees of the Dennis Hopper Trust from selling just thirty-two (32) of the 288 items of personal property from the 'Hopper Collection.'
Bruce Conner's Picnic on the Grass and Andy Warhol's Mao were the highest priced items set for sale, both expected to get between $20,000 to $30,000 each.
"The evidence shows the strong possibility of irreparable injury to Petitioner Victoria since the Trustees are threatening to sell personal, sentimental, and irreplaceable art and other personal property," the document reads.
As RadarOnline.com previously reported, 40 pieces of contemporary art owned by the Rebel Without A Cause actor were auctioned off by Christie's in November, fetching more than $10 million.
Article continues below advertisement
Ultimately, Victoria was granted the injunction preventing the Co-Trustees of the Dennis Hopper Trust "from selling, disposing, distributing, or otherwise transferring any of the property."
The injunction expires on January 27 at 10 a.m. when the next hearing is scheduled to be had in Los Angeles.
On January 14, 2010 Dennis filed for divorce from his wife of 14 years, but sadly passed away on May 29, 2010 from complications of prostate cancer.