Dennis Hopper's Art Brings $10 Million At Auction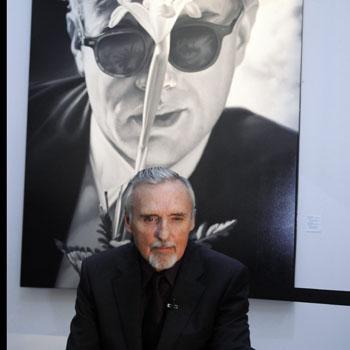 It was an easy ride for the estate of Dennis Hopper at Christie's auction house this week. Forty pieces of contemporary art owned by the actor took in just over $10 million, RadarOnline.com is reporting. That was nearly twice the pre-auction estimates.
Hopper, who died in May, was one of the country's most notable collectors of contemporary art and was himself an acclaimed painter.
At the time of his death he was embroiled in a bitter divorce from Victoria Duffy.  He had filed against her in January, not long after being diagnosed with cancer.
Article continues below advertisement
In competing legal actions, she's filed a $45 million claim against Hopper's estate; and the estate has filed a lawsuit against Duffy, accusing her of stealing $1.5 million in art from Hopper in the months before his death.
Either way, the good news out of the sale is that the estate is now $10 million richer, and 40 percent of the estate goes into trust for Hopper and Duffy's seven-year-old daughter, Galen.