The Countdown Begins -- It's 100 Days Till Wills And Kate Tie The Knot!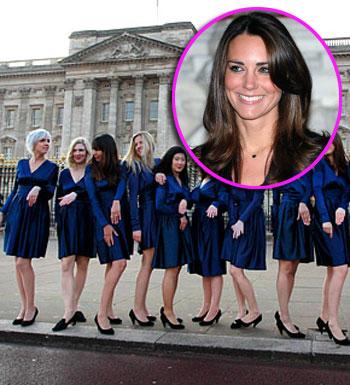 It's 100 days and counting!
Excitement is growing in the run-up to what will surely be THE wedding of the decade, and the royals are rushing to get ready for the big day – which falls on April 29.
With so little time and so much to do, bride-to-be Kate Middleton, 29, has been busying herself and frantically ticking off her to-do list with her team of wedding planners.
Prince William And Kate Middleton's Wedding Will Be A Public Holiday
Article continues below advertisement
She has been trying to keep a low profile while constantly traveling the 220 miles from the home she shares with Prince William in Angelsey, North Wales to London, where the wedding will be held at the historic Westminster Abbey.
And Kate isn't the only one in a pre-wedding frenzy - tourists, hoping to catch a glimpse of the young couple on their happy day, are snapping up hotel rooms and flights across the Atlantic.
It's been reported that hotel bookings in London have risen by 40 per cent, flight prices have surged and British Airways are even selling a 'royal wedding package' with prices starting at $865.
The post-wedding procession route from Westminster Abbey through Parliament Square, Whitehall, Horse Guards Parade and The Mall has become a favorite look-out spot for wedding watchers hoping to catch a glimpse of the happy couple, with 1,000 extra rooms opening up along the route and three new hotels set to open before April.
Article continues below advertisement
Meanwhile details of the wedding are already starting to leak, with Britain's Hello magazine reporting that Kate will break tradition by arriving to the Abbey by car as opposed to the Glass Coach that has been used for royal weddings since 1922.
It's also reported that after they have tied the knot, the happy couple will have a private reception at Buckingham Palace with friends and family hosted by the Queen, followed by dinner and dancing headed by father-of-the-groom, Prince Charles.
As RadarOnline.com previously reported Kate has chosen her dress and while the designer is a closely guarded secret, a source says that Princess Diana's favorite fashion icon, Bruce Oldfield, is the front-runner for creating the iconic gown.
Kate has also been amping up her workouts with a 'bridal boot camp' to look her best when she walks down the aisle.
Svelte Kate has been hitting the treadmill for an hour a day and reliving her favorite college sport of rowing on an indoor row machine, along with watching her diet.