Charlie Sheen Takes The Stage With Drew Carey, Jokes About A 'Dead Hooker'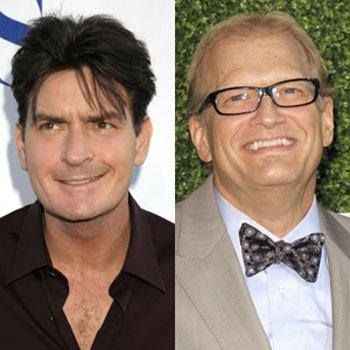 Two and a Half Men star Charlie Sheen jetted to Sin City again on Saturday, but this time he was a surprise guest on an improv television show in which he joked about a "dead hooker," RadarOnline.com has learned.
"Sitting in the booth next to Charlie Sheen at the Drew Carey show. :)" audience member Matthew Jones posted on his Twitter account.
"Charlie Sheen just shook my hand. I dare say, this is the closest I've ever come to a prostitute."
Article continues below advertisement
After spending time in Las Vegas last weekend with his new porn star love interest, Bree Olson, the actor showed up again this past weekend to tape an episode of Drew Carey's Improv-a-ganza, in which he cursed like a sailor and made reference to getting frisky with a "dead hooker," the LA Times is reporting.
After the taping, Sheen made his way through the audience and shook hands with several fans.
And just how did Sheen end up on stage with Drew Carey?
According to the Los Angeles Times, cast members told the audience that they'd met Sheen on the Vegas strip earlier that day and invited him to join them on stage. Sheen readily agreed, but when he was introduced to make his appearance on stage, the actor missed his cue.
The cast was forced to improvise until Sheen, looking unsteady on his feet, appeared a few minutes later.
Article continues below advertisement