Camille Grammer Meets Kelsey's New Fiancée, Says It Was 'Uncomfortable'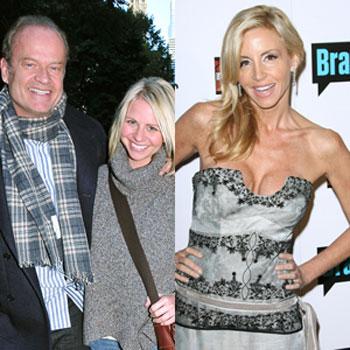 Real Housewife of Beverly Hills star Camille Grammer met with her ex's new fiancée on Thursday and said it was "a little uncomfortable at first," RadarOnline.com has learned.
Camille met Kelsey Grammer's much younger fiancée, Kayte Walsh, for the first time stating that for the sake of the children they should at least be cordial with each other.
"I saw Kelsey today and I met Kayte for the first time," Camille told PopEater.com.
Article continues below advertisement
"It was a little uncomfortable at first, but then I met her and I shook her hand and I looked into her eyes and I thought, 'She's OK, she's nice.'"
Camille and Kelsey announced they were divorcing on July 1, 2010 and it became a very public breakup that was chronicled throughout her appearance on the hit Bravo reality-TV show. Only one month later Kelsey announced Kayte was pregnant with their child.
"It's really important for me and Kelsey to be friends and amicable for our children's sake because you know, we have to co-parent and that's the correct way to do it," Camille, 42, said.
Kelsey, 55, and Kayte, 29, sadly suffered a miscarriage but became engaged in December 2010.
"I hope so, I hope so. I keep reaching out to him, but I think it's going to take a little time from his part," Camille said regarding a future friendship with the former Frasier star.
Article continues below advertisement