Camille Grammer Hates Watching Real Housewives Of Beverly Hills Admits; 'I'm Awful'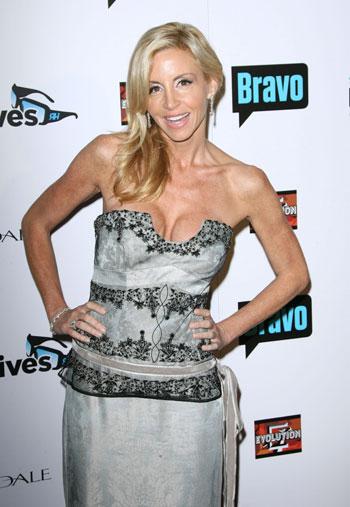 She's been branded the most hated Real Housewife of all time, now Camille Grammer has opened up to reveal even she loathes watching herself on the show.
RadarOnline.com first reported that the TV star might not be returning to the Beverly Hills reality drama, and now Camille confirms her portrayal on the show is enough to make her leave.
"I cringe," she told Access Hollywood. "I don't like the person, I can't watch her. I can't watch myself on TV. I look at the person and go, 'Who is that?' That's not me. I think I'm awful on it.
Article continues below advertisement
"It's too bad because I don't think they show the complete Camille Grammer, you know? You see bits and pieces of who I am, but I don't think it's an accurate portrayal of who I am."
"That would cause me not to go back and I have some concerns about that. I can't watch who I am on that show. Based on that I wouldn't go back."
The 42-year-old is in the middle of a bitter divorce with Kelsey Grammer and says watching her ex cozying up with his fiancee, Kayte Walsh, 29 has been particularly tough.
"Seeing him walking down the street or in the park with his puppy and kissing his new fiancee, is shocking to me," she said.
"And I found out most of this through reading the press, that she was pregnant. How bizarre to find out through some British tabloid that my husband's girlfriend is pregnant and it was only what? - Two weeks or three weeks after I filed for divorce I found that out.
VIDEO: Camille Grammer 'Doing Really Well,' Says Beverly Hills Housewives Costar
Article continues below advertisement