Bristol Palin Takes Dad Levi Johnston's Name From Their Son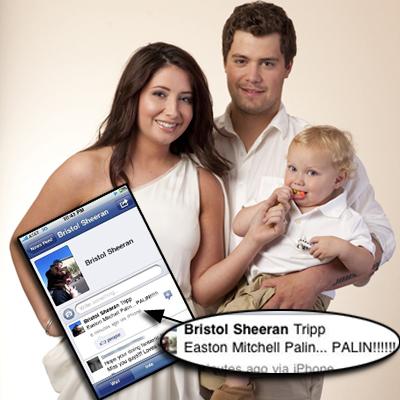 Bristol Palin is apparently purging baby daddy Levi Johnston from her life and their son Tripp's life -- by changing his last name from Johnston to Palin.
The former Dancing with the Stars contestant recently shared her excitement of the name change on her Facebook page, and RadarOnline.com has a screen grab.
"Tripp Easton Mitchell Palin… PALIN!!!" the 20-year-old mother of one wrote.
As RadarOnline.com first revealed, Bristol also just purchased her first home in Maricopa, Arizona.
Article continues below advertisement
Her new pad is a five bedroom, 4,000 sq. ft. home that she paid $172,000 cash for and the same house sold for almost twice that much just three years earlier.
"It is quite a remote place for Bristol Palin to have chosen, so, unless it is for a long term investment there must be some other reason," seller of the home, Martin and Cynthia Smith, told RadarOnline.com in an exclusive interview.
"She has picked a beautiful home and it is in 'turn-key' condition for her and her young son to move into."