ON YOUR RADAR: Biggest Celebrity Transformations Of 2010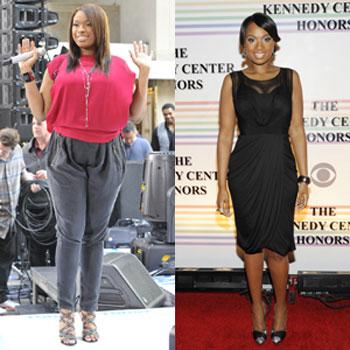 From their personal lives to their hot bodies, Hollywood's most sizzling stars transformed dramatically in 2010 for better and for worse! Click the next sentence to experience the change, in RadarOnline.com's shocking before and after photos.
Click Here To See The Biggest Celebrity Transformations Of 2010
Jessica Simpson gained a lot in 2010: masses of money via her growing fashion empire, a hunky fiancée‹and extra curves on her petite figure. Though under much scrutiny for the added pounds, Jessica embraced her new body beautifully, flaunting her figure in skintight pencil dresses and body-baring getup. What was the Sweet Kisses singer's best accessory of the year? Her hunky hubby-to-be, NFL player Eric Johnson. See Jessica's 2010 transformation here.
Article continues below advertisement
And while Jess added curves to her figure, Jennifer Hudson's disappeared before our eyes! The Academy Award-winning American Idol finalist was the biggest loser of the year, dropping several dress sizes and shocking fans with her newly svelte and fat-free figure. Kelly Osbourne also celebrated a new body in 2010, dancing her way to best body ever. See Jennifer's 2010 transformation here and Kelly's here.
Talk about the ultimate transformation! Chastity Bono fully morphed into Chaz, completing his gender change in March. See Chaz's 2010 transformation here.
Kate Gosselin went from frump to fabulous, transforming into a glamazon before our eyes. The mother of eight ran her way to a hard body, sculpting her curves to perfection, and also enlisted the help of NYC hairstylist Ted Gibson to lengthen her lusciously lengthen her locks. The transformation was complete at the Academy Awards, when Kate stole the red carpet show in a stunning Carmen Marc Valvo gown. See Kate's 2010 transformation here.
MORE ON:
hollywood happenings
Article continues below advertisement
Megan Fox underwent some major changes over the past year. The box office bombshell inspired plastic surgery whisperings when she hit the premiere of Jonah Hex in June, got booted from the Transformers franchise in May and then tied the knot with her on-again-off-again 90210 beau Brian Austin Green. See Megan transform over 2010 here.
Who else transformed before our eyes in 2010? Find out in RadarOnline.com's special year-end ON YOUR RadarOnline.com feature.