Exclusive
VIDEO: Tiger Woods' Older Brother Wants To Mend Relationship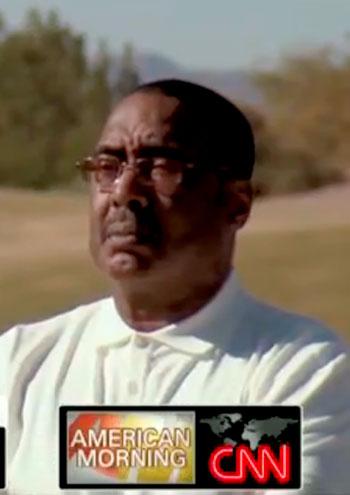 In a new interview, Tiger Woods' eldest half brother Earl Jr. says he wants to get back in touch with the golfing great after four years of silence. Earl is hoping to reconnect with Tiger because their sibling Kevin is unwell. The last time Tiger saw his brothers was at the funeral for their father Earl Woods Sr in May 2006.
FIRST PHOTOS: Tiger Out Of Rehab
"He was gracious enough to allow us to join him on the jet to take my dad to Kansas," Earl Woods Jr, 55, said in an exclusive interview with CNN.
Article continues below advertisement
"I remember we came off the jet, walked down the runway, hugged, (we said) 'Hey, how you doin'?' And he went that way with the entourage, and we went this way. And that was the last I ever saw him."
It was Earl Jr. who spoke out in the wake of Tiger's cheating scandal and revealed that their father would have been 'very disappointed' with the star but claims they can get past it.
"I have no grudge against him. I'm disappointed. I'm a little angry," he says. "But, if he chooses to contact and to be in contact, we would love that. You know, we have unconditional love for him, whether he contacts us or not."
But Earl Jr is hoping that Tiger will respond to them because of Kevin's decreasing condition.
"He is suffering from multiple sclerosis and his health has declined 40 percent in the past two years," Earl Jr. says.
"Kevin doesn't want this to be a big to-do about his condition," he continues. "But, you know, it makes me a little angry that ... there is this issue with trying to get the news to him. And it's been so difficult. It's like he doesn't care. I kinda feel that he does."