VIDEO: 'Spider-Man: Turn Off the Dark' Actor Falls 30 Feet Through Stage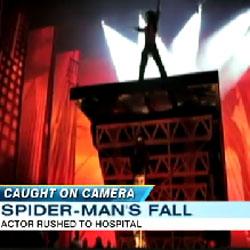 A 31-year-old stage stunt double in the Broadway musical Spider-Man: Turn Off the Dark, was hospitalized after he fell about 30 feet at New York's Foxwoods Theatre in Manhattan on Monday night, RadarOnline.com has learned.
"It looked like it was supposed to be an acrobatic stunt or something, but the person that was playing Spider-man fell down through the stage floor," an eyewitness told ABC News.
HOLIDAY PLANS: What Your Favorite On-Screen Stars Are Doing For The Holidays
Article continues below advertisement
An performer in the show told the AP the actor's name is Christopher Tierney.
The accident is the fourth since the show, directed by Tony Award-winner Julie Taymor, began its' previews last month. With more than $65 million spent, the musical is easily the most expensive in Broadway history, as the second-most costly, Shrek The Musical, racked up a $25 million tab.
Last week, the show's lead producer Michael Cohl said it was pushing its' official opening night back to February 7.
"The creative team is implementing truly exciting changes throughout the preview process," Cohl said. "Due to some unforeseeable setbacks, most notably the injury of a principal cast member, it has become clear that we need to give the team more time to fully execute their vision."