EXCLUSIVE INTERVIEW: Broadway's Alice Ripley - Anything But 'Next To Normal'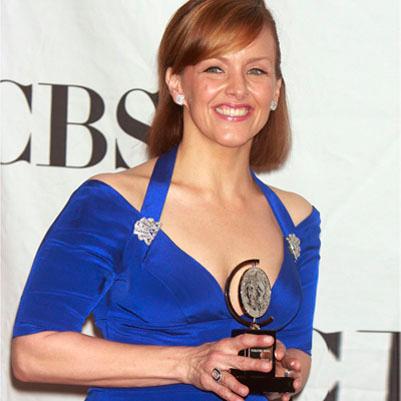 In 2009, Broadway baby Alice Ripley became an 'overnight' sensation -- after nearly twenty years performing on the Great White Way.
It was that year that she won the prestigious Tony Award for Best Actress in a Musical for her breathtaking performance in the Pulitzer Prize winning show, Next To Normal.
Variety called her "a force of nature", and now, Ripley is reprising her star-making role as a bi-polar mother haunted by family tragedy in the L.A. staged production of Next To Normal.
Article continues below advertisement
RadarOnline.com caught up with the extremely talented ( and wickedly funny) Alice in between shows at the Ahmanson Theatre in downtown Los Angeles, and asked her a couple of questions.
Radar: What was it like to win the Tony? Describe that magical moment when they called your name. Was it something you always dreamed about?
Alice: "Part of me was feeling "I have been working toward this for 30 years" and the bigger part of me thought "Holy Cow I can't believe this is happening."
Radar: For people not familiar with Next To Normal, tell us about the show and your character.
Alice: "I play Diana Goodman, architect, stay-at-home wife and mother of two. The Goodmans are an American nuclear family trying to put the fun back in functional. When a few deep dark secrets come to light, the audience feels the full impact of Diana's emotional trauma as she confronts her past and her family goes along for the roller coaster ride. "
Article continues below advertisement
Alice: "American Idol? Never heard of it. "
Radar: Are you a Glee fan? Do you relate at all to the so-called "geekytheater kids" in high schools. Was that you?
Alice: "Hmm, well, I am definitely a dork. Geek, I can't be sure about. I have used Glee, but I prefer Windex."
Radar: What would you tell a young person wanting to pursue a career in show business? What would you tell them about the ups-and-downs, and what it takes to make it?
Article continues below advertisement
Alice: "I would say 'Why the heck are you asking me? I'm not in show business, I'm a veterinarian.'"
Next To Normal runs at the Ahmanson Theatre in downtown Los Angles from now until January 2nd. For more information, go to www.centertheatregroup.com
Writer's note: Ripley made her Broadway debut in The Who's Tommy in 1993. Additional Broadway roles include Betty Schaefer in Sunset Boulevard (1994), Bathsheba in King David (1997), Violet Hilton in Side Show (1997), Fantine in Les Miserables (1998), Molly Ivors in James Joyce's The Dead (2000), and Janet in The Rocky Horror Picture Show (2000).
Ripley began writing songs in 1991 and her band RIPLEY was formed in 2003. RIPLEY is a self produced trio with Ripley on guitar and vocals.
Interview conducted by Neil J. Woulfe, News Director for RadarOnline.com.