VIDEO: Rudolph Meets His Maker -- Sarah Palin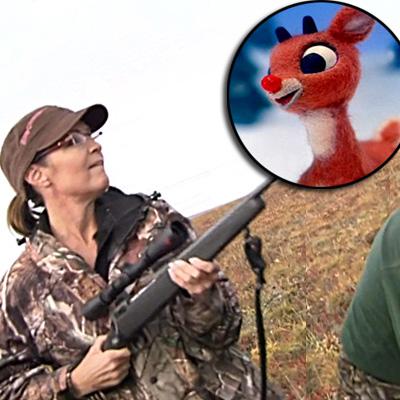 Conan O'Brien presented a hysterical skit Wednesday in which Rudolph the Red-Nosed Reindeer became the prey of hunting enthusiast Sarah Palin.
Watch the video on RadarOnline.com
"Rudolph the Red-Nosed Reindeer was just on TV and, did you know this, they updated it," O'Brien said, segueing into a clip intermingling footage of vintage Rudolph animation with outtakes of Sarah Palin's Alaska (in which Palin's aiming a rifle toward her prey).
Article continues below advertisement
The skit was a nod to an earlier episode of the TLC hit which featured Sarah, her father and a pal hunting for caribou.
"Many remote areas of Alaska, there's no grocery store," Palin said in the episode, which aired earlier this month. "It's four or five hundred miles away ... we don't have the advantage -- the animals have the advantage."
Conan airs on TBS weeknights at 11/10c
RELATED STORIES:
VIDEO PREVIEW: Kate Gosselin's Mini-Meltdown On Sarah Palin's Alaska
MORE ON:
hollywood happenings