VIDEO: Dinner Party Turns Catty On The Real Housewives of Beverly Hills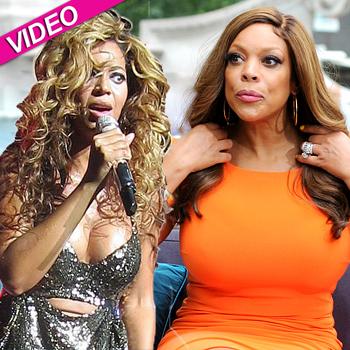 Camille Grammer's dinner party on Thursday's edition of The Real Housewives of Beverly Hills got ugly when fellow housewife Kyle Richards brought a special guest, Faye Resnick -- friend of the late Nicole Simpson -- to a dine with the show's catty cast.
Watch the video on RadarOnline.com
Grammer singled out Resnick in an awkward moment, noting her appearance in Playboy during the 90s.
"You know what. I know her. I saw her naked in Playboy," Camille said. "That's how I know Faye... she posed naked in Playboy after the O.J. trial. That's her! And I thought you looked amazing."
Article continues below advertisement
EXCLUSIVE VIDEO INTERVIEW: BH Real Housewife Dishes On Holiday Plans & Drama With Kim
Grammer was less flattering, however, in a separate interview where she ripped Resnick on a very personal level.
"I recognized her during the dinner. It was the hair. I think it was the extensions and the blown-up fake lips. But, um ... and then I realized, 'Oh my God ... it's Faye Resnick," she said. "The morally-corrupt Faye Resnick. We got into this conversation how I posed for Playboy too.
Grammer, however, rationalized her Playboy pictorial as more artsy, and less opportunistic, than Resnick's.
"I was in my early 20s. It wasn't coming of a big murder trial in which my girlfriend was killed. That's just a whole different... those people I don't understand and I don't want to associate with."
Richards said of Grammer's pointed words, "Those who live in glass houses should not throw stones -- and she threw a big boulder."