VIDEO: Defensive Kate Gosselin Says Kids Weren't Expelled, Slams Jon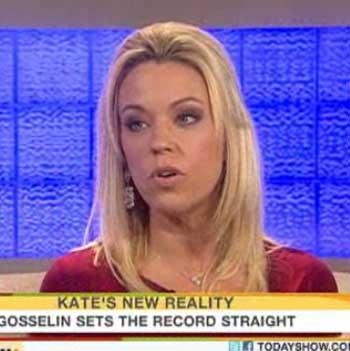 Kate Gosselin denied that two of her kids had been expelled from their school, and took a few jabs at their father Jon, in a brand new interview with The Today Show on Wednesday.
Watch the video on RadarOnline.com
As RadarOnline.com previously reported, Collin and Alexis Gosselin, both 6, were removed from their Pennsylvania private school last month for "violence and bullying" as their behavior reportedly continued to spiral out of control in wake of their parents' troubles.
Article continues below advertisement
"That is false, they were not expelled from school," Kate, 35, said. "We have a situation where my kids are in an academic-excelling school, where academics are pushed," adding that the heightened expectations clashed with "kids that are going through a divorce.
"The two collided and they were just not doing well with the combinations," Kate said. "They were having anger issues, they were acting out behavior things ... I felt very alone."
It is typical for schools in this situation to ask parents to remove "problem" children and make it known that the children will be expelled if they are not voluntarily removed.
Kate said the two kids have been "functioning" under the tutelage of an a early education teacher and routine therapy sessions, and added that her other six children are doing "amazingly well.
"I knew going through a divorce to watch for stuff," she said.
Article continues below advertisement
Kate's problems don't end there, however: When host Meredith Vieira asked her about a Tweet her ex-husband Jon sent last month, apologizing for his actions in 2009, Kate said she found his words to ring false.
"I have never personally been apologized to," she said showing frustration and anger, adding that she doesn't consider "an interview on TV or a tabloid" the appropriate venue to discuss deep-seeded family issues.