VIDEO: Brad Pitt's New Gig - SNL Weekend Update Weatherman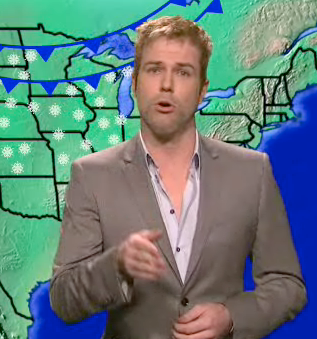 Just in case that acting thing doesn't work out for him, Brad Pitt has a new Plan B to fall back on. He's the new weatherman for Saturday Night Live's Weekend Update segment! Well at least cast member Taran Killam imitating Brad is.
You can watch the hilarious video right here on RadarOnline.com.
New to the show this season, Killam does a spot on take on Pitt. His loopy Brad talks about how bad snow is for travelers and suggests heading to the southwest if you're looking "to shake the snow off your boots" with a little "heat wave."
Article continues below advertisement
The segment ends when 'Brad' is joined on stage by Angelina, make that Abby Elliott doing her perfect Jolie impersonation.
"I got you a Christmas present," she says and then whips out -- you guessed it -- an infant doll!
It's LOL funny and a perfect birthday present for Brad who turned 47 yesterday.
RELATED STORIES:
Brad Pitt's Charity Raises Millions More For Katrina Survivors