Tiger's Ex Mistress Rachel Uchitel: I'm Going To Be A Private Investigator & Won't Date Married Men!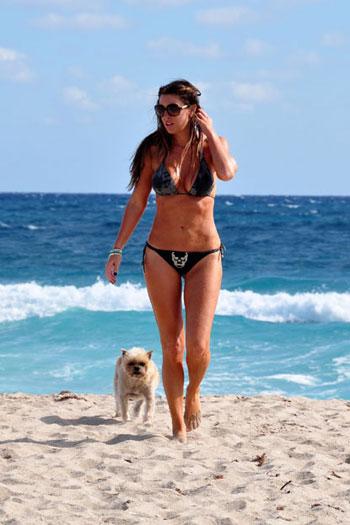 If you need a private investigator to bust a cheating spouse turn to an expert: Tiger Woods' ex mistress Rachel Uchitel!
In an ironic twist, the woman whose clandestine relationship with the golfing great led to the end of his marriage says in a new interview that she's going back to school to become a PI!
"I decided to go back to school and get my private investigation license! I've learned to shoot a weapon. I had to Taser someone the other day," Uchitel told Fox 411.
Article continues below advertisement
"I had to get pepper sprayed, so I know what the effects are -- so much fun! I had the best time ever! I've already gone under cover, I've done process serving. In court, we actually do real stuff for the investigator who's teaching or class, so it's very cool."
Uchitel was pretty good at hiding her romantic relationship with Woods until the National Enquirer busted her – catching her visiting him in Australia and then finding several of her friends who confirmed the relationship.
Tiger drove into a tree, went to rehab, got divorced and has returned to the pro tour.
But Uchitel seems happier than ever.
"I'm going to work under my professor, Dale Gustafson, who runs DGA Detectives," she told Fox 411. "I will take the test and actually be able to open up my own business under Dale's license with him as a mentor until I get the hours under my belt to get my own license.
"Having my own detective agency would be something I'd love to do. I'm actually trying to convince some of my friends to invest in cadaver dogs and come down with me on vacation to Orlando to search for a missing girl. I've been obsessed with finding missing people for so long."
Article continues below advertisement
Despite her professional excitement, her personal life is not thrilling she says.
BIKINI PHOTOS: Uchitel Strolls On Beach While Tiger Divorces
"It's hard to find somebody who can be accepting of all the stuff that they've read and choose to be with me for who I really am. Obviously, there are a lot of guys that are kind of around, but... it's more my fault than anyone else's. I guess I'm kind of scared of dating," she says.
Uchitel received approximately $10 million from Woods at the end of their relationship and has never publicly acknowledged the affair.
EXCLUSIVE: Rachel Uchitel Leaves Sober Living For Ground Zero
She is appearing on Dr. Drew's Celebrity Rehab and says she is a "love addict."
And in a statement that is sure to make some people snicker, she says she won't date married men!
When asked what would be a deal breaker for a potential date she answers "If they're dating somebody or married. If somebody lied to me about anything, I wouldn't date them."