ROYAL TURMOIL: Princess Di's Ex-Butler Paul Burrell Warns Kate Middleton -- 'Be Careful!'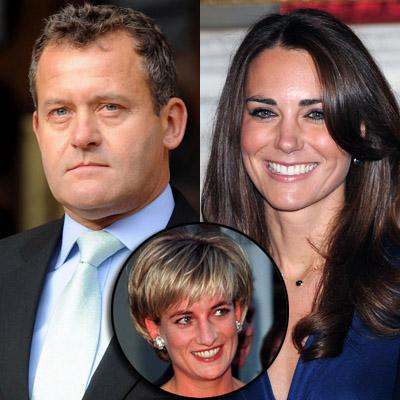 It may all look like the perfect fairy tale for newly engaged Kate Middleton, but RadarOnline.com has learned Paul Burrell, former butler to the late Princess Diana, has warned Kate to "be careful."
"Nothing has changed in the royal household since the time of Queen Victoria, and it remains a very old-fashioned house," Burrell warns, in a new interview.
"Be careful, Kate. Try to draw on the experiences of your late mother-in-law and understand that not everyone in the royal household has your best interests at heart."
Article continues below advertisement
Burrell told Australia's New Idea five other things Kate can learn from Diana's royal experiences:
"Be yourself. Many have tried to emulate Diana -- her clothes, mannerisms and hair. You don't need to. Just be yourself and you'll be a marvellous princess."
"Don't be afraid of the Queen. Her Majesty is one of the friendliest, most approachable ladies. The way to her heart is through her corgis, so accompny her on walks often."
"Make friends with the palace's downstairs (staff). Make friends in low places, because it is the downstairs that makes the upstairs work."
Choose your words wisely and "lean on your husband if you're not sure. He is wise when it comes to the press and will guide you."
"It's not the royal family who are the snobs at Buckingham Palace. The real snobs are the people who work on behalf of them."
Burrell, 52, who worked for Diana for ten years until her death in 1997, was widely accused of betraying the princess by writing a series of tell-all books.
He has also struggled to restore his reputation after being acquitted in 2002 of stealing from Diana's estate.
While Burrell expressed his concern, Kate was out getting practice at being a royal princess with fiance Prince William.
As RadarOnline.com reported, the Prince and his bride-to-be attended their first public event since their engagement announcement.
The couple attended a fundraiser for the Teenage Cancer Trust, with all proceeds from the event are going to the construction of a new wing to Addenbrooke's Hospital, specifically to treat teens suffering from cancer.
As always, Kate was fashionably attired, wearing a black and white dress with black a jacket as she stood side-by-side with Prince William. He'd been invited to the bash by a friend who is on a Cancer Trust committee.