Ashton Kutcher's Threat Over Lover's Sex Tape Freezes Porn Company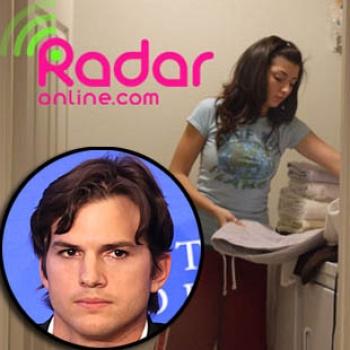 A legal threat from Ashton Kutcher has caused porn company Vivid Entertainment to reconsider it's planned release of a Brittney Jones sex tape with Ashton's first name on the box cover, RadarOnline.com has learned.
The box cover the raunchy DVD of Jones having sex with her current boyfriend boasts: "She claims to be Ashton's Mistress... Could She Have Made A Superstar Stray?"
Kutcher is furious about the tape and that Vivid is trying to make money from his name in their marketing of the 21-year-old's sex tape. He sent the company a legal letter. Earlier this year Jones detailed a brief sexual fling she had with Kutcher while his wife Demi Moore was out of town.
Article continues below advertisement
Looking to cash in again, Jones had a sex tape ready to be released by Vivid.
And despite an earlier report that Vivid was planning to go ahead and release the tape, the company now says that's not certain.
Vivid spokesperson Jackie Martin told RadarOnline.com: "I don't know what Vivid's next move as it is in the hands of lawyers,"
If the tape is released it won't be good news for Ashton or Demi. Both denied that Ashton cheated but Jones produced text messages and told her story of how she had sex with him in his house while Demi was out of town.
In the legal letter, Ashton's lawyers claim Vivid is infringing on the actor's "marketable celebrity identity value" - and they promise they will take further legal action unless they stop associating their client's name with Jones' porn tape.
Jones said she met Kutcher when he, wife Demi and step-daughter Rumer were bowling next to her at Hollywood's Lucky Strike in July.
She slipped him her number on a napkin, and he began texting her things like, "R U busy?"
MORE ON:
Vivid Entertainment
Article continues below advertisement
As RadarOnline.com revealed, Jones had also tried to hawk a story that she was pregnant with the Hollywood heartthrob's child.
"Brittney thought she was pregnant because her period was late for at least a month," a source told RadarOnline.com.
Because she was late, Brittney's advisors constructed a money-making scheme to cash in and sell a story that she was pregnant with Kutcher's baby after having unprotected sex.
Said the source: "In her mind, Brittney believed she was about to have Ashton Kutcher's baby."
But she wasn't and that money-making scheme fell apart, apparently sending her on her way to porn infamy.
Jones claimed Kutcher and Moore have an open marriage and suggested the A-list couple also have "threesomes often".
"He said they share women, but he isn't supposed to go off and sleep with women on his own," Jones said.
"He explained that he and Demi had a deal where they had to share lovers. He felt bad that he had been with me and didn't share."