PHOTOS: Oprah Downunder -- Jay Z, Russell Crowe, Bon Jovi & Millions In Giveaways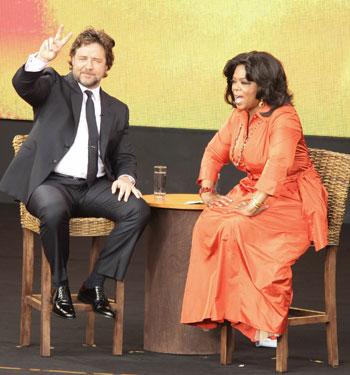 Thousands of people have descended on the Sydney 'Oprah' House for the much-hyped filming of the Opera Winfrey Show, RadarOnline.com is reporting.
They've been treated to a star-studded list of guests, including Jay Z, Bon Jovi and Russell Crowe.
Oprah grooved her way through the audience and onto stage to the beat of I Come From The Land Down Under, wearing a bright orange dress, reports The Daily Telegraph.
Article continues below advertisement
She opened the show with an obligatory chant of 'Aussie Aussie Aussie Oi Oi Oi' and declared to the crowd of 6000 people she now understood why Australia is called Oz.
"Because it truly is at the end of the yellow brick road," she said. "After being here a week, I know this. I love Australia."
Bindi and Robert Irwin, the pint sized daughter and son of the late Crocodile Hunter Steve Irwin, also appeared complete with snakes around her neck.
"He was the best dad in the whole world," Robert told Oprah, in one of his first interviews.
When Oprah asked Gladiator star Crowe what the difference was between American men and Australian men, without skipping a beat, the actor joked: "Probably dental care."
It wouldn't be an Oprah show without gifts.
Rapper Jay Z gave a surprise visit to a local school, announcing each student would receive a HP and Microsoft laptop compliments of the world's most generous television talk show host.
Article continues below advertisement