PHOTOS: Oprah Does Sydney With Russell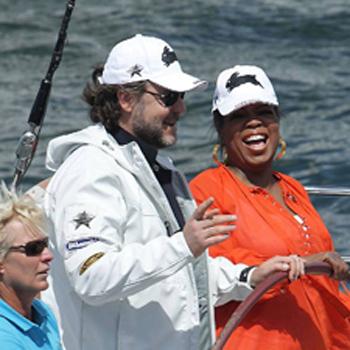 Oprah Winfrey's invasion of Australia continued Monday (local time), when the talk show queen and Russell Crowe went sailing in Sydney Harbor, and RadarOnline.com has all the pictures.
Wearing a billowing bright orange blouse and a white hat given to her by Crowe, Oprah and the actor sailed past the famed Opera House where she will tape two episodes of her show.
A small flotilla of yachts and even replicas of Captain Cook's Endeavor followed along. They carried the hundreds of members of Oprah's audience who were gifted with the dream trip Down Under.
Article continues below advertisement
Nicole Kidman and Keith Urban are two of the other Aussie superstars Oprah will have on her show.
But that's assuming a labor strike doesn't upend things. According to the Sydney Morning Herald , a dispute over wages could interfere with Oprah's taping at the Opera House.
We're betting Oprah would never allow that to happen.
RELATED STORIES:
Oprah Makes A Splash In Australia