PHOTOS: Oprah's Big Day Down Under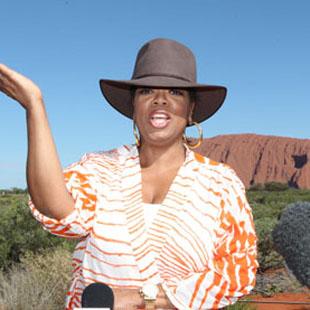 Oprah Winfrey's Ultimate Australian Adventure continued Friday, as she visited the landmark Uluru as well as the city of Melbourne, and RadarOnline.com has all the pics for you.
PHOTO: Oprah's Big Day Down Under
Winfrey, 56, wore an orange and white button-up shirt, khakis and a hat, as cameras continued rolling on her tour of the continent, which will be among the last broadcasts of her daytime talk show before it goes off the air at the end of the year.
Article continues below advertisement
Uluru is a large rock formation in Central Australia that's considered a sacred in the Aboriginal culture; it's designated as a UNESCO World Heritage Site.
In Uluru, she was given a necklace by Annangu Elder Judy Trigger, while in Melbourne, the talk show icon -- flanked by Prime Minister Julia Gillard -- spoke to more than 8,000 fervent fans at Federation Square.
"I've never seen a welcome like this in my life. In. My. Life," Winfrey said. "I don't know what it is with you guys, I was saying this to the prime minister, I don't know what it is, do y'all go to like friendly school? Everybody is so darn friendly.
"I love the fact that y'all have supported me and supported this show," Winfrey said.
Winfrey in her season opener this past September announced that she'd be flying every member of her studio audience that day -- 302 in all -- to Australia. Including crew members, Winfrey's brought about 450 people altogether on the trip, which is slated to last about 10 days.
RELATED STORIES: