PHOTOS: Kristen Stewart & Robert Pattinson Make A Splash In Brazil!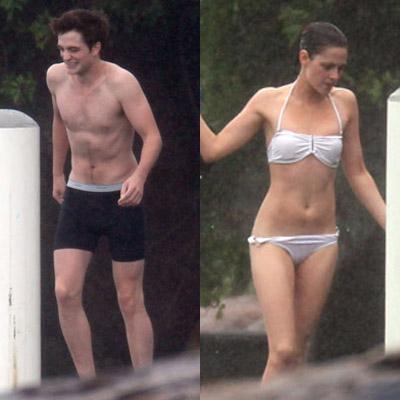 There's a time for work -- and a time for play.
Kristen Stewart and Robert Pattinson take a dip in the ocean during a break in their gruelling shoot in Rio de Janeiro, Brazil for Breaking Dawn, the final chapter in the mega-successful Twilight franchise, and RadarOnline.com has new pics of the on-and-off screen lovers.
The photos -- taken November 12, but just released this week -- show lovely Kristen, 20, showing off her flawless figure in a teenie weenie white bikini, while the handsome RPattz, 24, strips down to his black Calvin Klein boxer briefs!
Article continues below advertisement
These newly-released photos come just one day after RadarOnline.com showed you steamy video of Kristen's Bella making out with Robert's Edward at the beach for a scene in the film.
Breaking Dawn -- the final book in the Twilight series -- chronicles Bella and Robert's honeymoon, the violent birth of their child, and Bella's transformation into a vampire.
Because the final book is so massive, it's being broken into two films. The first movie will released on November 18, 2011, while Breaking Dawn, Part 2 will hit theaters in November, 2012.