Exclusive
EXCLUSIVE: Nikki Reed's Horror Movie Past And Her Reaction To Landing Twilight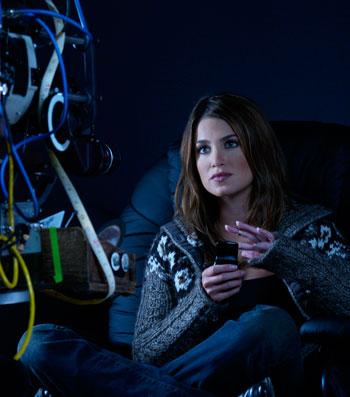 Before her fame skyrocketed thanks to her role as Rosalie in the Twilight saga, Nikki Reed was already working on chilling material for the horror film Chain Letter. Deon Taylor, the director of the film, raved about the actress and revealed what she was like off screen and what happened when she learned she landed her vampire role. RadarOnline.com also has exclusive photos of Nikki on the Chain Letter set.
Article continues below advertisement
"Nikki does incredible in this film and she's very witty in person," Taylor said. In the film, Reed plays Jessie, a high school student hunted by a maniac. Jessie's friends are brutally murdered after not passing on a chain letter. Taylor described Chain Letter as "a very smart horror movie. It has the most incredible kills of this generation."
During the shoot, Reed found out that she got the role in Twilight. "One day she came in and told me she was up for a really cool role," Taylor remembered. "And the next day she said they're going to have me in a really cool new movie and I'm going to have blonde hair!!" He said the news thrilled his leading lady. "It's great to see her on the upswing," he added.
"She's gorgeous, sexy, beautiful, really smart," Taylor said of his leading lady. "She's always one step ahead of you."
He said fans of the actress will be surprised by her acting chops in the flick. "Here is someone that everyone thinks is one way and I wanted her to be another way."
Despite rumors that Nikki was shunning the movie and refused to help do any promotions, Taylor said she was very supportive. "When you're in a machine like Twilight it's hard. This isn't a silly movie where Nikki is running around in a bikini, it's a smart horror film."