PHOTOS: Britney Spears Shows Off Her Birthday Suit In Bikinis Over The Years!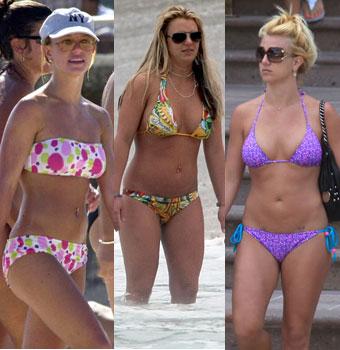 Happy Birthday Britney Spears!
Since being inducted into the Mickey Mouse Club in 1992, the blonde beauty's life has been quite the Circus!
In honor of her 29th birthday on Tuesday, December 2, RadarOnline.com has compiled photos of the pop princess' famous bikini body over the years, which has gone through many ups and downs-- just like her career and personal life.
Britney skyrocked to superstardom in 1999 with the release of her debut album in …Baby One More Time, and her rock hard bod (which she showed off every chance she got!) gained her as much attention as her singing ability.
Article continues below advertisement
The first few years of her career, Britney was one of the hottest bodied stars on the Billboard charts, but then things took a turn for the scandalous…
In January 2004 Britney married her high school pal Jason Alexander during a wild night in Las Vegas, and though the two immediately had the union annulled, the pop star had caught the wedding bug. Within a few months she announced her engagement to backup dancer Kevin Federline, whose baby-mama Shar Jackson was carrying his child!
The whirlwind romance, which resulted in Brit Brit and Kevin trading vows months after they started dating in September 2004, led to a bun in the oven for Britney—and her bikini body was put on the backburner for several years.
Two kids, a divorce, a rehab and a mental institution later, Britney struggled to get regain control of her career and personal life—as well as her sexy body.
In late 2008 a new and improved Britney hit the stage—and they beach. While her album Circus was her first release since 2003's In the Zone to hit number 1 on the Billboard charts, she also got her bikini body back in tip-top shape and found love with her agent Jason Trawick.
Article continues below advertisement