PHOTOS: Bikini Wars! Big Boobs Vs. Small Boobs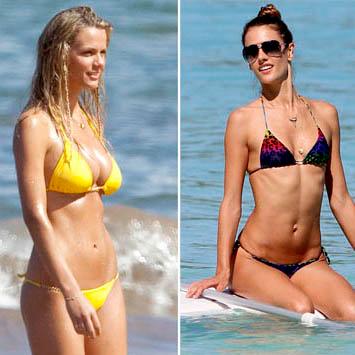 Is big beautiful? Or do you subscribe to the theory: big isn't always better?
It is a battle of the boobs when Hollywood's sexiest stars show off their top-half assets in skimpy bikinis.
Whether their bust is big or small, only the best-chested babe will take home the Bikini Wars gold in RadarOnline.com's special photo feature.
With her statuesque figure and flawless face, there is no question why Brazilian babe Alessandra Ambrosio is one of the highest paid supermodels in the world.
Article continues below advertisement
One thing Ale doesn't have? A busting bosom like American beauty Brooklyn Decker!
The Sports Illustrated model makes waves whenever she hits the surf in her skimpy bikinis.
Find out which of these model bodies brings the most heat to the beach here.
Olivia Wilde and Katherine Heigl both have a little experience in the ER - and also know how to show off their hot bodies in sexy swimsuits on the beach.
While the House hottie makes the most of her small assets, by keeping the rest of her body fit and fabulous, the former Grey's Anatomy star draws all the attention to her gorgeous globes, with the help of a scanty bikini top.
Find out which bikini babe cause more heart palpitations when she strips down here
Paris Hilton and Kim Kardashian are ex-BFF's who both bared all in racy sex tapes.
While the blonde heiress proudly parades her modest bust around the beach in skimpy bikinis, the brunette bombshell totes one of the most impressive set in Hollywood.
Article continues below advertisement
From big screen bombshells to sexy singers, see Hollywood's hottest battle in out in RadarOnline.com's Bikini Wars!
RELATED STORIES: