PHOTOS: Boobs In Bikinis - The Good, The Bad & The Very Large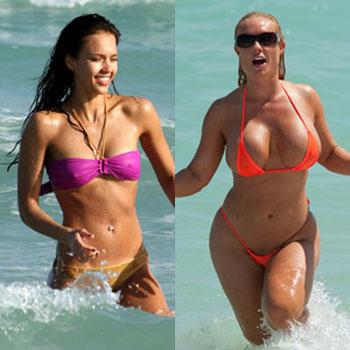 Mirror, mirror on the wall, what celebs have the fairest bikini boobs of them all?
From the Atlantic to the Pacific, celebs love showing off their real and artificial assets in super skimpy bikini tops.
While there are a handful of totally boobiful babes on the beach, other stars are a bust when it comes to their bikini top half.
Find out whose golden globes were honored and who fell into the booby trap in RadarOnline.com's special feature!
Article continues below advertisement
Jessica Alba's Fantastic fat-free figure is one of the most desired in Tinsletown, especially because of those gorgeous globes!
The hot momma takes home our top honors, though a certain swimsuit model is close behind.
Brooklyn Decker gets paid the big bucks to show off her full-bodied bosom in skimpy swimsuits on the cover of Sports Illustrated.
Andy Roddick definitely scored a Grand Slam by putting a diamond ring on the beautiful blonde model.
Gisele Bundchen is a fine example of the "less is more" bikini bust.
The highest paid supermodel in the world doesn't have the biggest kahunas of all the Victoria's Secret Angels, but they are definitely just perfect.
When it comes to busting out of a bikini top, Ice-T's curvy wife Coco sins to the extreme!
The bathing beauty shows off her oversized assets in way too skimpy bikini tops, in truly arrest worthy fashion.
Article continues below advertisement
Tara Reid made an ill-fated (and inflated!) decision to purchase herself a new set of knockers several years ago, resulting in one of the biggest plastic surgery flops of all times.
Heidi Montag topped her blonde bosom buddy, when she decided to enlarge her already altered rack, from a 32 A to a C to a DDD!
Who else made RadarOnline.com's boobiful list? Find out in our special photo-fuelled feature.
RELATED STORIES: