Girl Who Taped Miley Cyrus Bong Video Was Best Friends With Demi Lovato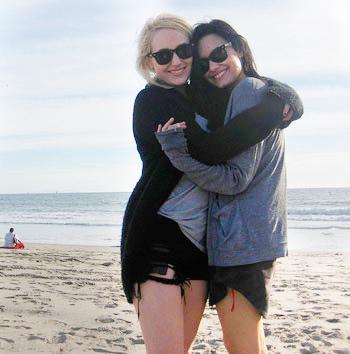 Anna Oliver, the girl who allegedly taped the video of Miley Cyrus smoking out of a bong, was also best friends with another troubled teen star. RadarOnline.com has learned that Oliver and Demi Lovato were very close friends, even going to church together.
EXCLUSIVE INTERVIEW & PHOTOS: Miley Cyrus Was A Real Life 'Mean Girl' In School, Says Childhood Pal
Though Lovato recently went into a treatment center for physical and emotional issues following her physical assault on one of her tour dancers, the Disney star's time with Oliver seemed innocent and G-rated despite Oliver's taped night of debauchery with Cyrus this fall.
Article continues below advertisement
In March 2010, Oliver and Lovato- along with Joe Jonas- were photographed going to church together in Los Angeles. The two girls spent a lot of time with one another in the spring and Lovato posted plenty of photos of her and Oliver, calling each other "BFF"s.
In February 2010, the pals hit Disneyland with a group and also posted plenty of hilarious, silly photos of them playing around with fake mustaches.