Exclusive
EXCLUSIVE: Porn Star Claims Tiger Woods Paid Her Off, Pulls Sex Tape Off Market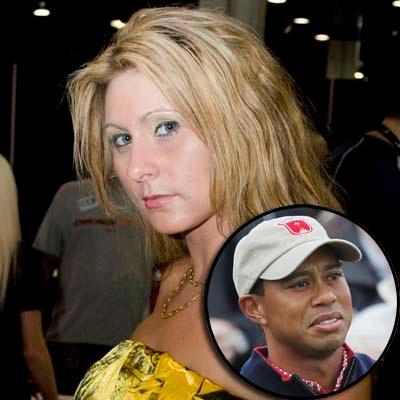 The porn star selling a purported sex tape of herself with Tiger Woods claims the golf superstar paid her off not to release it, and so she's closing a Web site that has been accepting orders for weeks, RadarOnline.com has learned exclusively.
Devon James claimed she recorded a sexual encounter with Woods and has been accepting MasterCard, Visa and Paypal on her Web site, where the tape was listed for $19.99. The Web site said the tape was shipping to buyers on December 1.
Article continues below advertisement
Several people who ordered the tape told RadarOnline.com that they never received it and had not heard anything about it. Late Tuesday, we contacted Devon's husband Nick Janette and he told us that the couple was paid off by Tiger and the tape would not be released.
"Our settlement is done so we're not releasing a tape," Nick told RadarOnline.com. He claimed that the couple would have the settlement money by the end of the week.
But RadarOnline.com learned from sources close to the situation that there is no settlement, and there NEVER was talk of a settlement.
Those sources, who are in a position to know, said Devon and Nick's story about the settlement is pure fiction.
James and her husband repeatedly refused to show RadarOnline.com any portion of the alleged tape or even a screen grab. They told various stories during the past few months, were often caught in outright
Article continues below advertisement
contradictions and ridiculous claims.
Now Jannette tells RadarOnline.com that everyone who ordered the tape has had their money refunded, except for 25 people who filed a claim for their money. But two RadarOnline.com staff members who purchased the tape have yet to have their $19.99 refunded. Both had their credit cards charged, but the merchandise failed to ship on the Dec. 1 deadline, as the Web site had promised.
On the Web site the shipping date was pushed back multiple times, most recently stating that the delay was due to the high volume of sales. But when Jannette spoke to RadarOnline.com on Tuesday, he seemed to forget that and said the date was delayed "because we didn't know if we would have a settlement or not."
When we pointed out the obvious contradiction that he delayed the tape's shipment to finish negotiations versus the site's claim that it was delayed due to an overwhelming number of orders, Nick insisted: "We didn't lie. We did have high demand. We had 180,000 buys.
Article continues below advertisement
"We didn't really know what to do. That was our reason. I didn't want to cancel our orders and not have a settlement, so that's what we decided to do.
"That's not lying."
Jannette also says he and Devon -- who have filed for bankruptcy -- didn't take any money from the orders placed. But when one RadarOnline.com employee attempted to get his money back, the couple told him to file a complaint with PayPal, which promised to take the matter up with the vendor.
However, the Jannettes have yet to respond to PayPal, we've learned.
RadarOnline.com exclusively revealed that Devon's former manager Gina Rodriguez said the tape didn't exist and was a scam by the couple. "This is definitely a scam and I would advise anyone thinking of buying it to not send sending in your money for pre-order," Gina Rodriguez told us previously.
"Because the tape does not exist and if they have a tape, it's not Tiger."
Article continues below advertisement
Rodriguez went on to say that everything James "has said and done thus far has been a lie."
The sex tape Web site will be coming down later this week but that hasn't stopped Nick from continuing to make ridiculous statements. "You've got to realize that the site was generating so much traffic that we were in the top 1% of all internet websites in the world," he told RadarOnline.com.
Internet traffic statistics prove that statement is not even close to being true.
Jannette's attorney did not return a phone call from RadarOnline.com seeking comment.
Janette confidently told us he isn't worried about being to be sued for fraud -- by Woods or by those who ordered the alleged tape.
EXCLUSIVE PHOTOS: First Pictures Of Tiger Woods In Sex Rehab
"Absolutely not," Jannette said. "There's no fraud involved."
Porn star James is also the same woman who alleged that Woods was the daddy of her 9-year-old son, a claim exposed as untrue this year in a Florida court after a 2002 DNA test confirmed the kid was not Tiger's.