Exclusive
EXCLUSIVE PHOTO: Woman Suing Dr. Phil Hospitalized For Stress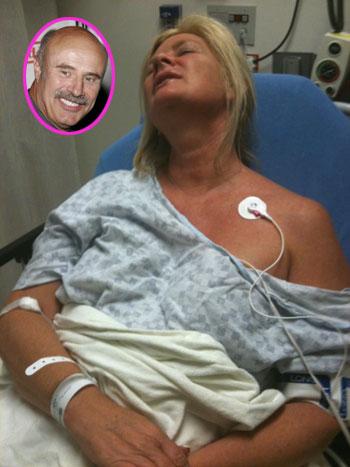 The interior designer suing TV talk show king Dr. Phil for $7 million has been hospitalized, RadarOnline.com has learned.
Brynja McGrady is resting at home now, but according to a source close to her, she spent a "long night in observation" suffering from stress associated with her predicament.
COURT DOCUMENTS: Read Brynja McGrady's Bankruptcy
"Her heart was erratic and her blood pressure was high... she had a fever and was sick," an insider said.
Article continues below advertisement
Among their claim, they allege the McGraws' agreed to promote their skin care line on Dr. Phil's show — but failed to do so — and that Robin often took public credit for the company's design work.
They also allege the celebrity couple are embroiled in a scheme to avoid paying vendors, stating in court documents that they "make false promises to induce vendors and/or employees into providing unique and extraordinary services, then falsely accuse those vendors or employees of a wrongdoing related to those services."
Article continues below advertisement
However, as RadarOnline.com reported, McGrady filed for Chapter 13 bankruptcy on November 24, leaving the case at a standstil.
Our source said, "Brynja is also under so much stress. She is not able to function well. Brynja can't pay her bills or feed her kids. She's on Medi-Cal. It's sad. She's feeling better. But it is a warning sign."
Dr. Phil and Robin are countersuing the designers for $665,000 in punitive damages and attorneys' fees.